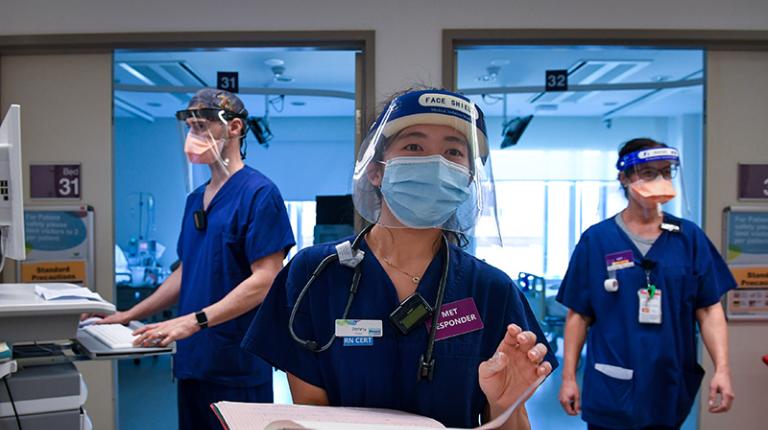 The demands placed on Western Health frontline workers is exceptional and exhausting. You can show your support by donating a coffee to a healthcare worker this October. 
Through the pandemic, healthcare workers have reported a surge in mental illness, worries about being safe at work and bringing COVID home to their families. Many have contemplated leaving the health workforce.
Did you know that Western Health has:
delivered healthcare to over 1 million residents in Melbourne's west in the last 18 months
provided health intervention to 75% of COVID-affected aged care facilities
run one of the busiest public-health and contact-tracing units in Melbourne
established the largest and busiest COVID-testing site, at Melbourne Showgrounds
set up one of the first mass vaccination clinics at Melbourne Showgrounds
set up the first vaccine hub in Melbourne at Sunshine Hospital
implemented the first drive-through vaccine centre in Melton
managed vaccination for almost 50% of metro Melbourne, spanning Parkville to Melbourne Airport, and Melton to Werribee.
As we were the first hospital to set up a mass vaccination hub, many other organisations came to us looking for inspiration. If you were to go to the other hubs, you would see that other sites are mostly a variation of what we have done. We are very proud of that.
– Lisa Smith, Project Director for Western Health COVID vaccination program.
Say 'thank you' with a coffee
Just $5 will buy a frontline worker a hot coffee and help them get through a busy day. Donate $20 and you'll buy four workers a coffee!
VU shows support
VU will also be offering its support for Western Health frontline workers, many of whom are VU alumni or current students, in other ways this month by:
hosting a free lunch day for staff at the Melbourne Showgrounds and Melton vaccination hubs, in partnership with VU Polytechnic's culinary students
providing access to VU Sport and Health Wellness programs to support Western Health staff and their families
sharing the Elevenses mindfulness program with Western Health staff and their families.
Victoria University and Western Health have been working together for the community of the west since the 1980s. Today, the partnership offers joint research activities, education and employment opportunities for VU students and Western Health staff, as well as development and operation of shared facilities including the VU Sunshine Clinical School.
Pay it forward and donate a coffee to a health care worker today!