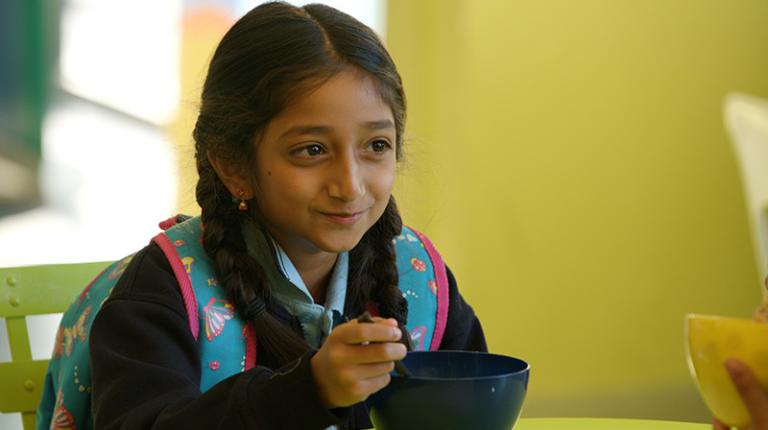 Victoria University researcher Dr Fiona MacDonald has welcomed the State Government's announcement to expand a successful school breakfast program in yesterday's State Budget.
Dr MacDonald recently completed an evaluation of a $13.7 million school breakfast program partnership between the Victorian Government and Foodbank Victoria, which was piloted at 500 of the State's most disadvantaged schools between 2016 and 2018.
The program was designed to tackle the disadvantage faced by students who arrive at school hungry by supplying more than 50,000 healthy breakfasts a week of cereal, canned fruit, milk, baked beans and apples.
The Government yesterday announced it would invest a further $58 million to expand the program to 500 more schools, and also provide lunch and school holiday supplies to eligible students. See media release: Keeping our promises and building the education state.
Dr MacDonald said her findings of the pilot program indicated that breakfast clubs helped students concentrate better and improved learning, but the benefits extended far beyond learning.
It's about more than the food
"Nutrition and responding to immediate hunger needs are the focus, but importantly, the Clubs provided welcoming spaces where children and their families could connect with teachers, volunteers and the broader school community," she said.
In the trial program, breakfasts were offered to the entire student body at all participating schools to discourage any shame or social stigma associated with being hungry or living in poverty.
The program allowed each school to decide the frequency of the school breakfasts and how they would staff them. About 40% of schools offered Breakfast Clubs every day, and more than half created leadership roles for senior students as part of the program.
Some schools even incorporated cooking classes, kitchen gardens, or eggs from school chickens into their programs.
"Teachers reported the greatest impact on student learning was children's capacity to concentrate in class, but the Clubs' nurturing environments helped students feel cared for before they even started the school day," Dr MacDonald said.
Read Dr Fiona MacDonald's Evaluation of the School Breakfast Clubs Program.
Dr Fiona MacDonald is a Research Fellow specialising in inclusive education in VU's Institute for Sustainable Industries and Liveable Cities (ISILC).