Safe keeping the past, protecting the future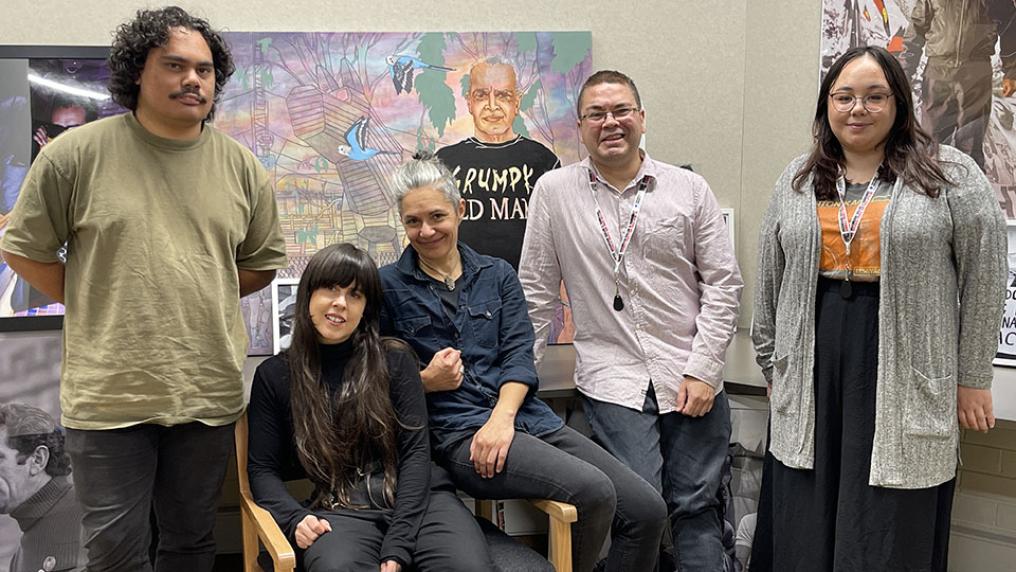 A Paul Ramsay Foundation grant has given five interns the chance to help shape the Aboriginal History Archive at Victoria University.
Wednesday 26 April 2023
While the final additions are taking place on the exterior of Moondani Balluk, Victoria University's Indigenous Academic Unit, vital work continues inside the building. 
Thanks to a generous Paul Ramsay Foundation grant, Kamiko Martin, Nioka Thorpe-Williams, Elijah McDonald, Natasha Ritchie, and Coen Brown now have first-hand experience working with one of the country's largest collections documenting over half a century of Aboriginal activism in Australia's contemporary political history. 
For the last six months, they have been immersed in a unique opportunity to hone their skills and help shape the Aboriginal History Archive (AHA). The archive, made up of almost 500,000 items, have been collected over the past 45 years by Aboriginal activist/academic and Moondani Balluk researcher  Professor Gary Foley.
Documented issues include the emergence, development and rise of the Aboriginal Black Power, land rights and self-determination movements in Australia.
Rochelle le Pere, Project Manager, Aboriginal History Archive said each of the intern's contribution has been invaluable.
"We are incredibly proud of the contribution each of them has made to the archive. Aboriginal archivists are few and far between, so this is the ideal opportunity to encourage and support the next generation of academics and researchers. Each of them brings a new energy, vision and passion for the work. It's been fantastic to see their confidence grow."
For Kamiko Martin, who also collaborated with VU's Library Services team, the experience has been unforgettable.
"I felt supported and that my work was being nurtured and encouraged. The whole experience is incredibly rewarding. Whenever I faced a challenged, or needed help, it was there in a motivating and uplifting way. 
Overall, the internship has provided me with key experiences that have contributed to developing and improving my current skill set. I have also gained important knowledge and exposure to the type of work I would like to do in the future. Thanks to the internship I have been able to find confidence in the career path I chose and my own abilities, I will always be grateful for this time."
Nioka Thorpe-Williams, a local Aboriginal woman born and raised in Melbourne, who has now left to pick-up full-time work, helped organise community workshops and events that gathered Elders and key community members connected to Aboriginal Community Controlled Health Services (ACCHS).
"I organised a series of workshops and invited Elders and key members to help identify people in photographs supplied by Aunty Alma Thorpe."
Natasha Ritchie started her internship in June 2022 after completing a Bachelor of Social Work at VU. As part of her project, Natasha will use material in the archive to trace people who were essential to the establishment and success of the Aboriginal Community Controlled Health Services (ACCHS) Network, including the Victorian Aboriginal Health Service, Koori Kollij, Aboriginal Medical Service Redfern, National Aboriginal and Islander Health Organisation (NAIHO), and the Aborigines Advancement League.
"I was curious about work relating to archiving, so when I heard about the internships, I knew it would be a wonderful opportunity to get involved. There's so much about the archive that's incredible to me.  It's a huge honour to be part of the projects and the energy is always so positive. I'm excited for future generations who will be able to access the material and use it. It's great to think that in fifty years' time when I'm an old lady, that people will be going through archives that I worked on."
A proud Koorie of the Wiradjuri, Yorta Yorta, Gunditjmara and Wurundjeri Woiworrung people, Coen Brown is currently completing a Bachelor of Community Development at VU. As part of his time as an intern, Coen will work with staff and community members on a project that will be used in a public exhibition celebrating NAIDOC week (2-9 July). 
He will also work with Aboriginal staff and community members to create a vision board that will contribute to the design of culturally safe and relevant icons/illustrations.
As part of his internship, Elijah McDonald will use material in the archive, along with collaborating with staff and community, to develop a software tool that will enable data transfers for online research exhibitions. 
"A lot of the records we have are in gigabytes. If you want to show someone a cool photo of Professor Foley, or something, it takes a long time for the file to open. Basically, I want to come up with a way for everyone to access the archive more efficiently and ensure Aboriginal history is easily discoverable." 
Moondani Balluk means 'embrace people' in Wurundjeri – at VU, it is more than a sentiment, it is embedded in action. Eli says the whole team are great.
Everyone genuinely cares about what they're doing and that's special. We're all working with history.
For Rochelle, one of the most important outcomes of the program is to maintain the skillsets developed by providing pathways for interns into study and or employment. "We are a small team; it would be amazing to have the opportunity to grow the unit and ensure the future of the archive continues to thrive." 
A range of opportunities are available to Aboriginal and/or Torres Strait Islander peoples in the Aboriginal History Archive including - paid internships and Research Fellow positions as well as Masters and PhD scholarships.  And financial support is always needed to grow the impact of the Archive.
For more information contact Rochelle via email [email protected]