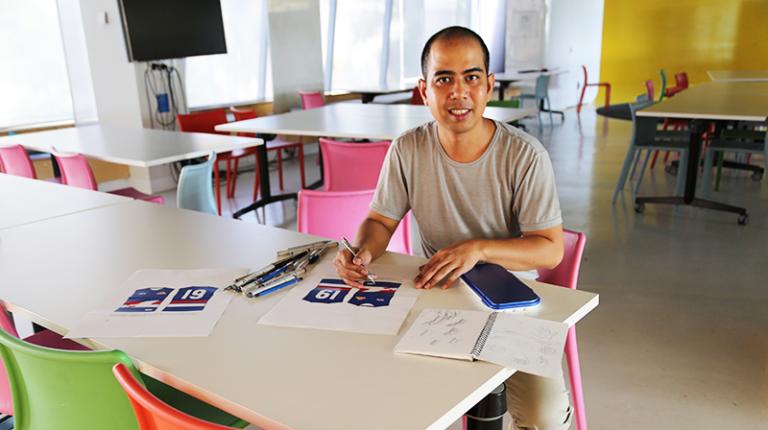 Ronald Ramos has a life philosophy that it's better to follow one's heart eventually than never at all.
Two years ago, the Victoria University Polytechnic graduate swapped his career as an IT specialist to become a visual artist, earning a series of awards, accolades and prizes along the way.
At 36, the late-blooming artist said it wasn't easy to throw in a highly-paid role for a chance to uncover a buried creative passion.
"I started my career in engineering and technology because I was expected to do something like that, but it wasn't really what I wanted to do with my life," he said.
The St Albans resident will show his latest work this weekend when he unveils a Western Bulldogs AFL football jumper he designed for the inaugural VU – Western Bulldogs 'Design a Harmony-Themed Footy Jumper' competition.
Ronald will present the jumper to Western Bulldogs players at the 'Unity Cup,' a full day of round-robin matches featuring amateur players supported by AFL teams. The Unity Cup was first devised in 2008 to strengthen connections between police and young people from diverse cultural and faith backgrounds to follow Cultural Diversity Week.
Ronald's winning work is a powerful design of red and white hands gripping wrists on a Bulldogs-blue background, symbolising strength and unity.
"It's a design that can be understood in many cultures without requiring too much thought," he said.
Contest brings student perspectives to diversity
VU Cultural Diversity Manager Dr Teresa De Fazio and Kashif Bouns of the Western Bulldogs Community Foundation devised the contest to bring student perspectives of multiculturalism to the Unity Cup.
Dr De Fazio explains that the competition attracted "excellent submissions that highlighted a depth of thought and skill around the competition themes, making judging very difficult."
Ronald's own family arrived from the Philippines as skilled migrants when he was four, and he grew up in Footscray – a suburb filled with other newly arrived Australians.
His VU Polytechnic teachers saw Ronald's talent blossom while he completed his Diploma of Visual Arts. He won the $5000 Fiona Myer National Grant last year after they encouraged him to enter a panoramic series of five acrylic paintings of Japan's Mount Fuji. He plans to use the money for art workshops and gallery visits to Sydney later this year.
Ronald's ultimate goal is to become a teacher and pass along his passion for his beloved craft.
For now, he's focused on this weekend and seeing the Western Bulldogs Unity Cup players wear his special design.
The Unity Cup will take place on Sunday 7 April from 9am at Ransford Oval, Park Street, Parkville, and is open to the public.