Tuesday 18 September 2018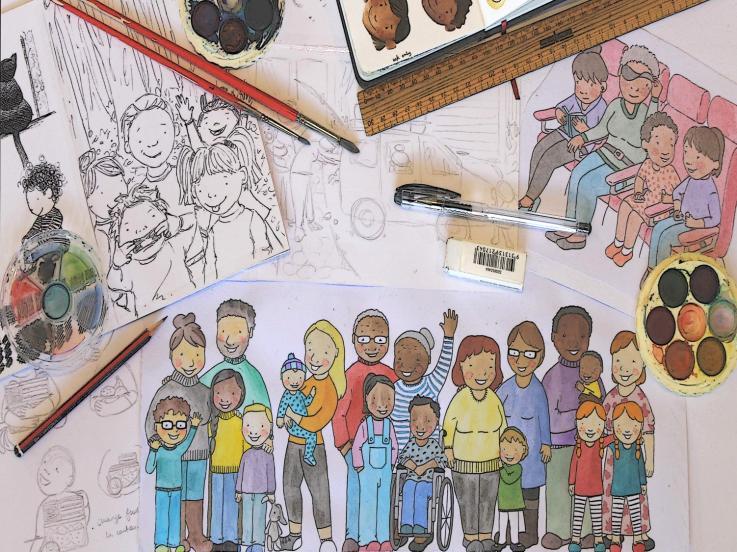 A Victoria University researcher has found Australian picture books persist in portraying 'family' as two parents with biological children, ignoring the country's changed reality.
PhD candidate Sarah Mokrzycki said the notion of family in children's literature remains overwhelmingly traditional – specifically white, middle-class, with mum, dad, and often a boy protagonist.  
This portrayal, however, does not represent Australia's 51,000 foster families, 99,000 step families, or 961,000 single-parent families, among many other family possibilities, she said.
Diverse book characters important for young readers
While researching the importance and benefits of portraying family diversity in children's picture books, Sarah is also writing and illustrating her own book that celebrates family diversity.
Sarah, a foster carer with her husband Rob, completed her masters thesis on the representation of foster care in children's books.
"Research shows a link between the educational and emotional development of children and their ability to relate to book characters." 
"Having book characters to relate to is important because it connects young children to the world and helps them forge a lifelong love of reading."
When children see themselves represented in books, they are able to validate their own experiences and believe they are worthy of notice, she said.  
Traditional family persists as 'ideal'
References to a traditional family model as the ideal or norm permeate not only children's picture books, Sarah pointed out. Even the Australian Government uses the word 'intact' to describe this family form.
"What does that say about all the Australian families who don't fit this label?" she asked. "That they are somehow damaged, incomplete or broken?"
Researcher represents VU at international competition
Sarah, a Point Cook resident, was recently awarded top prize in VU's annual Three-Minute Thesis competition in which PhD students are judged on how well they present the essence of their research within three minutes to a non-academic audience.
After beating out other VU finalists for a $1000 top prize, Sarah will now head to the University of Queensland in Brisbane later this month to compete against other university champions from Australia, New Zealand, Malaysia, Singapore and Hong Kong for a $5000 first prize.