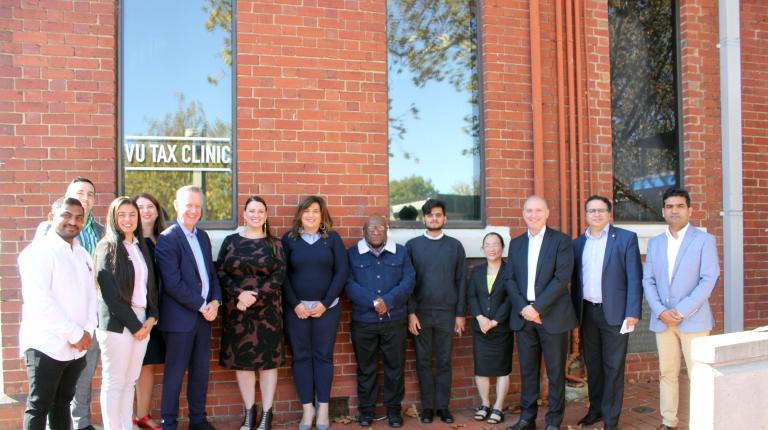 No matter how uncomplicated your finances might be, no one, with perhaps the exception of accountants, really enjoys tax time. So if you're not really a 'numbers person', don't worry: the University's new VU Tax Clinic can help.
On Friday 22 April, official guests, VU senior leadership, staff and students gathered to mark the opening of the VU Tax Clinic. Ms Fiona Dillon, Chief Tax Counsel at the Australian Tax Office, gave the official address, saying: "It's my absolute pleasure to open the VU Tax Clinic. Even though we do our best, the tax system can be complicated, and the work you will do is hugely significant. You are the future of the tax profession."
Based at Nicholson Street Campus, the VU Tax Clinic offers free services to students, staff and the wider community in the west of Melbourne. From lodging your tax, assisting with Tax File Number applications, business name registration and checking the accuracy of payslips, including superannuation and PAYG withholding amounts, supervised VU business students are on hand to assist.
The National Tax Clinic program started in 2019 and was initially a pilot program rolled-out across ten universities. Today, with the government's support, the scheme is a success and for the first time this year, a competitive process had 23 universities competing, with VU one of 14 successful applications.    
VU Vice-Chancellor Professor Adam Shoemaker said this program exemplifies how the university is 'Doing Dual Differently'. "We are constantly working on innovative ways to deliver higher education and vocational learning to our students," he said. "Students will have the unique opportunity to immerse themselves in their industry and directly benefit from work-integrated learning opportunities. VU is proud the VU Tax Clinic will serve the communities of Melbourne's west, and offer free or affordable services."
While walk-in appointment are available, bookings are preferred via: [email protected].