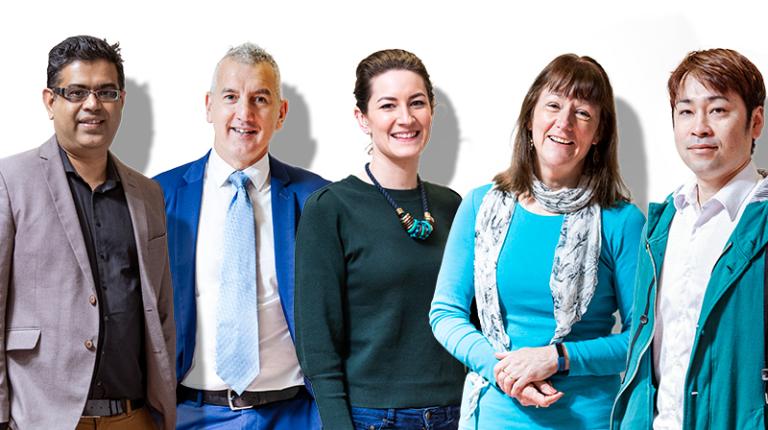 We are thrilled to announce the finalists for the 2019 Alumni Awards.
The Victoria University Alumni Awards are the highest honours presented by the University. Selected through a highly competitive process, each finalist has made a lasting impact and contribution to our University, to the west of Melbourne, to our nation and across the global stage.
The Victoria University of today is built on the successes of our alumni, and we are incredibly proud of their legacy.
The recipients in each category will be announced at the 2019 VU Alumni Awards Presentation Event at City Convention Centre on 3 October 2019.
Lifetime Achievement Alumni Award
Dr Collette Burke
Chief Engineer of Victoria
Managing Director, Exner Group Pty Ltd
Director, VicTrack
General Manager & Director, Karsta Group
Bachelor of Engineering (Civil)
Geoff Dale
Founder & Director, Dale Consulting Pty Ltd
Diploma of Applied Chemistry
Professor Mark Febbraio
Senior Principal Research Fellow, National Health and Medical Research Council
Head of the Cellular & Molecular Metabolism Laboratory, Monash Institute of Pharmaceutical Sciences
Bachelor of Applied Science (Physical Education), Doctor of Philosophy
Professional Achievement Alumni Award
Dr Sherryl Clark
Published Author
Diploma of Vocational & Educational Training, Diploma of Professional Writing & Editing, Doctor of Philosophy
Dr Hanatsu Nagano
Director, Global Bridge Melbourne
Director, Global Bridge Japan
Postdoctoral Research Fellow, Victoria University
Bachelor of Exercise Science & Human Movement,  Bachelor of Applied Science (Honours), Doctor of Philosophy
Dr Mahesh Prakash
Group Leader and Senior Principal Research Scientist, CSIRO Data61
Doctor of Philosophy
Meritorious Service Alumni Award
Cr Kim McAliney
Councillor, Wyndham City Council
Deputy Chair, Greater Metropolitan Cemeteries Trust
Director, Think Pink Foundation
Bachelor of Business
Mark Riley
Senior Advisor - Industry & Networks, AGL
Graduate Diploma in Marketing, Graduate Diploma in Public Sector Management, Master of Business (Marketing)
Deepak Vinayak OAM
Station Master, Metro Trains Melbourne
Community Advocate
Certificate III in Transport & Distribution (Rail Operations)
Rising Star Alumni Award
Ayden Shaw
Sport & Recreation Manager,
Disability Sport & Recreation
Bachelor of Exercise Science & Human Movement / Bachelor of Psychological Studies
Dr Ryan Storr
Co-founder, Proud2Play Inc.
Lecturer, Western Sydney University
Doctor of Philosophy
Carly Whytcross
Manager Dermal Clinician Unit and Dermal Clinician, The Canberra Aesthetic Plastic Surgery Clinic
Bachelor of Health Science (Dermal Therapy)
Thank you to everyone who has taken the time to nominate and help us recognise exceptional alumni who have achieved success in their field and made an impact in the community.