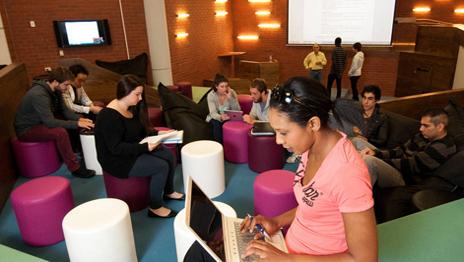 As you progress through your study or career, build your skills with Lynda.com, a leading online learning site.
Lynda.com contains a video library of engaging, top-quality courses taught by industry experts.
You can access Lynda.com courses online or offline in your own time and at your own pace.
Courses to build study & work skills
Achieve success at university or work with Lynda.com courses:
audio and music
business and marketing
design, 3D animation, CAD
developer and web
education and eLearning
IT
photography and video.
Learn skills to support your study or career with Lynda.com courses:
time management for students
study skills – read faster and more thoroughly, take notes, memorise, create study plans
grammar foundations and advanced grammar
writing in plain English, writing a business report
communicating with confidence, designing a presentation, PowerPoint tips
connecting with peers, creative thinking
leadership foundations
entrepreneurship foundations, ideation, finding and testing your business idea
innovation – The Innovator's DNA
problem solving techniques
managing stress, mindfulness and happiness tips
​​View all subjects on Lynda.com.
Free access to Lynda.com
VU students and staff have free access to Lynda.com, available in VU Library Databases:
Access Lynda.com courses online or offline in your own time and at your own pace.
Online
For desktop and mobile devices, download the Lynda.com app from the relevant app store.
If using a mobile device, access via app:
Download the Lynda.com app from the relevant app store (Apple App Store or Google Play).
Open the Lynda.com app.
Select Already a member?
Select the Organisation tab.
In the field under Web Portal, enter vu.edu.au and select Log in.
Offline
When you are connected online you can download content on desktop and mobile devices for offline viewing.
Downloading content for offline viewing allows you to keep learning anytime and anywhere.
To get you started, find out How to use Lynda.com.
Tips
Click the 'Notebook' tab and take notes while you watch a video.
Search transcripts for better comprehension or quickly find answers to your questions.
Bookmark videos and courses for future reference.
Download exercise files (available for some courses) to follow as you watch the video.
Use coding practice environments (available for developer courses).
Add your favourite videos/courses to playlist to customise your learning.
Print, email and share (on Facebook, Twitter and LinkedIn) the certificate of completion for each course that you finish.