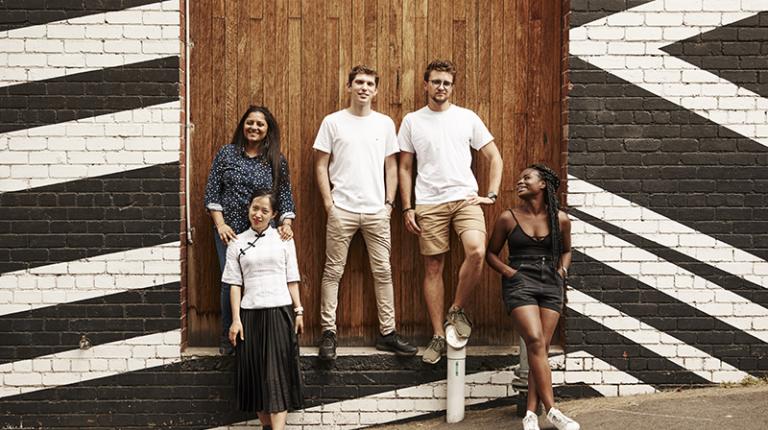 Calling all International VU Students – you are invited to Hang Local this semester. The Hanging Local program is offering a variety of day trip experiences for international students from 29 February onwards.
Victoria University in partnership with Western Melbourne Tourism and Get Lost Travel is launching the new program for 2020.
All trips are highly subsidised through support from the Victorian Government. Have a look and book today!
This is a wonderful opportunity to discover your local region and Hang Local in Melbourne's west.
Follow us on Facebook for all the latest program news and events.
iFly and Maribyrnong Inflatable Regatta
Experience two indoor skydives at iFly, Essendon Fields, and paddle with 1000 others in the Inflatable Regatta on the Maribyrnong River with live music, and more food!
Watch a Maribyrnong Inflatable Regatta video
Date: Saturday February 29
Time: Departing 8.15am, returning 6pm (lunch included)
Cost: $25
Local Orientation Day
Enjoy coffee and cake at the Bad Love Club, tour the Footscray Market, Footscray Community Arts Centre, and go behind-the-scenes at the famous Flemington Racecourse.
Date: Friday 6 March
Time: Departing 8.45am, returning 4.15pm (lunch included)
Cost: $25
Aussie Rules with the Western Bulldogs
Hands-on Aussie rules clinic for beginners, behind-the-scenes tour of the Western Bulldogs training facilities at Whitten Oval, Footscray.
On Sunday 15 March, you'll have the option of attending an AFLW game at Whitten Oval (Female Aussie Rules) the week prior and have an VIP introduction to the game.
Do either or both!
Dates: Sunday 22 March & Sunday 15 March
Cost: $25
Beach Fun Williamstown
Cancelled due to the coronavirus (COVID-19) pandemic.
Try stand-up paddle boarding at Altona Beach, have a picnic Lunch at Williamstown Botanic Gardens and visit Williamstown Beach. (Includes water-safety program.)
Date: Sunday March 29
Time: Departing 9am, returning 5.30pm (lunch included)
Cost: $25
Werribee Park
Cancelled due to the coronavirus (COVID-19) pandemic.
Visit the Victoria State Rose Garden and Werribee Open Range Zoo, and have a picnic lunch in the Werribee Park Tourism Precinct.
Date: Sunday May 3
Time: Departing 9.30am, returning 5pm (lunch included)
Cost: $25
Organ Pipes and Dingoes
Cancelled due to the coronavirus (COVID-19) pandemic.
Take part in nature photography at Organ Pipes National park, enjoy wine tasting and lunch and visit the Dingo Discovery Sanctuary.
Date: Sunday May 10
Time: Departing 8am, returning 5pm (lunch included)
Cost: $25