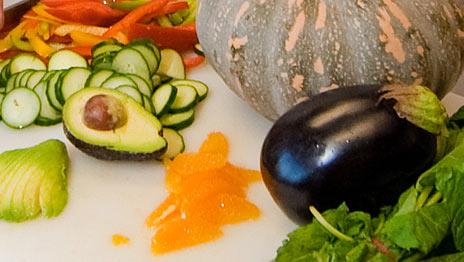 Victoria University is on a mission to improve the health of our community by bringing Jamie Oliver's Ministry of Food Popup Kitchen to Footscray.
We are passionate about health, active living and nutrition - and like Jamie Oliver believe that "knowing what we eat and how to cook it has never been more important."
We believe our community, here in our heartland the West of Melbourne, can really benefit from access to the knowledge, tools and skills required to improve their lives by improving the way they eat.
The Ministry of Food pop-up kitchen is about inspiring even the most inexperienced cook how to make a meal from scratch. This could be you!
With hands-on cooking classes, you could learn all about food; where it comes from, how to cook it and how it affects your body so you can feed yourself, family and friends tasty, exciting, and nutritious food.
Despite Footscray and surrounding areas having delicious and affordable produce, around 50% of our local community feel they can't access fruit and vegetables due to their low income, physical disability or access.
We are proposing that the Ministry of Food will have access to the quality commercial kitchens located at our Footscray Nicholson campus.
Help us by sharing the story on social media. You can 'like' our Facebook page to "Bring Jamie's Ministry of Food Pop-Up Kitchen to Melbourne's West", watch and share our YouTube clip, or tweet using #JamieVU.
The Jamie Oliver Ministry of Food philosophy
You might not have heard about Jamie's philosophy.
"I want to inspire you to get in the kitchen and cook meals for yourself and your family from scratch, whether you're a complete beginner or a good cook who likes simplicity.

With some basic skills under your belt and a handful of recipes, you'll be able to prepare nutritious meals on any budget." Jamie Oliver
Inspiring, isn't it? Yet so simple.
Jamie Oliver's Ministry of Food has launched a national search for a new Australian location to host a pop-up kitchen for a twelve month period.
The idea behind our proposal is for us to be that Australian host at our kitchens at Victoria University Footscray Nicholson campus.
Show your support and help us turn this around
Like our Facebook page to "Bring Jamie's Ministry of Food Pop-Up Kitchen to Melbourne's West", watch the YouTube clip or tweet using #JamieVU.
Why should we get this pop-up kitchen in the West?
The population in Melbourne's west has one of Australia's highest incidences of lifestyle-influenced diseases such as obesity, type 2 Diabetes, metabolic syndrome and cardiovascular disease.
Chronic diseases are largely preventable through healthy living, i.e. good eating habits and exercise.
Victoria University's Footscray Nicholson Campus would be a perfect central location in Melbourne's west to set up the Ministry of Food program, and we have some great kitchens to do it in.
It could be supported by the University's Centre for Chronic Disease Prevention and Management, whose focus is the prevention of these diseases through biomedical (nutrition) and lifestyle research, and passing on the outcomes to the wider community.
It's part of our own philosophy at Victoria University to be a University of Opportunity, with a particular focus on the western regions of Melbourne where for example we are putting in place:

The VU Learning Link, in Hobsons Bay (Altona Meadows), Hume (Sunbury and Broadmeadows) and possibly
Melton (Melton).
in Maribyrnong - Footscray University Town incorporating Creative Arts and Sport Precincts.
in Brimbank - the Sunshine/St Albans Knowledge and Health Precinct.
in Wyndham a proposed Werribee Research, Technology and Education Training Park.
Wouldn't it be great to tell your friends you had a hand in bringing Jamie Oliver to our region?
We are supported by Maribyrnong City Council, Leadwest, Western Health and Macedon Ranges & NW Melbourne Medicare Local in this project. You can too.
Just remember, like the page on Facebook so we can bring Jamie's Ministry of Food Popup Kitchen to Melbourne's West.