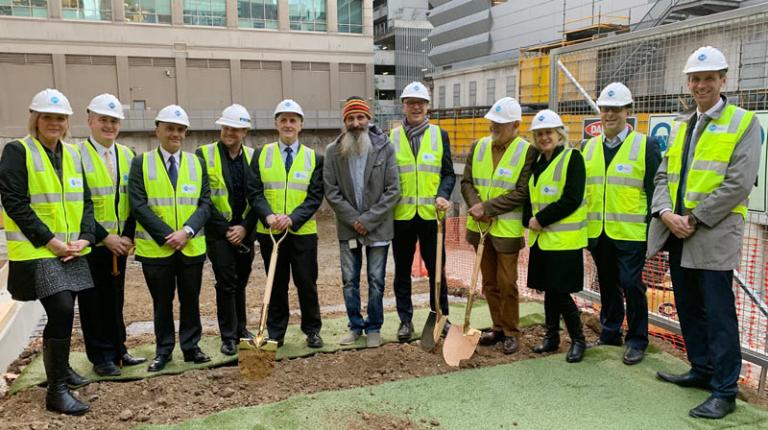 Work on Victoria University's City West Precinct (with partners ISPT) started four months ago, but today's official sod-turning and Smoking Ceremony marks the beginning of an exciting new stage in the VU City Campus project.
"We are fortunate to be partnering with ISPT to create a distinctive precinct for our students and staff in the CBD. This is a significant step towards realising the University's transformation and ensuring our campuses are great places to study and work," said Victoria University Vice-Chancellor and President, Professor Peter Dawkins AO.
ISPT, a property and superannuation fund investor, will support VU's plan to consolidate its city campuses into one vibrant, easy to access precinct, that will enhance the city's west and become a central learning-hub in the CBD. The 32-storey building is set to be operational in 2022 and will revitalise this iconic part of the city.
Melbourne's chilly temperatures were not enough to discourage Professor Peter Dawkins AO from wielding the appropriately gold-plated shovel to mark the start of a build that will result in an elegant and distinctly contemporary design by Jackson Architecture.
"The new City West Precinct will transform the city, restoring the historic Land Titles Office, while also improving the local amenity and spawning a reborn urban experience in the western parts of the Melbourne CBD," said Professor Dawkins.
State Government approval for the arrangement was provided on the basis that "the University establishes a 'New Infrastructure Fund' in its accounts that holds the proceeds of sale for reinvestment in new infrastructure."