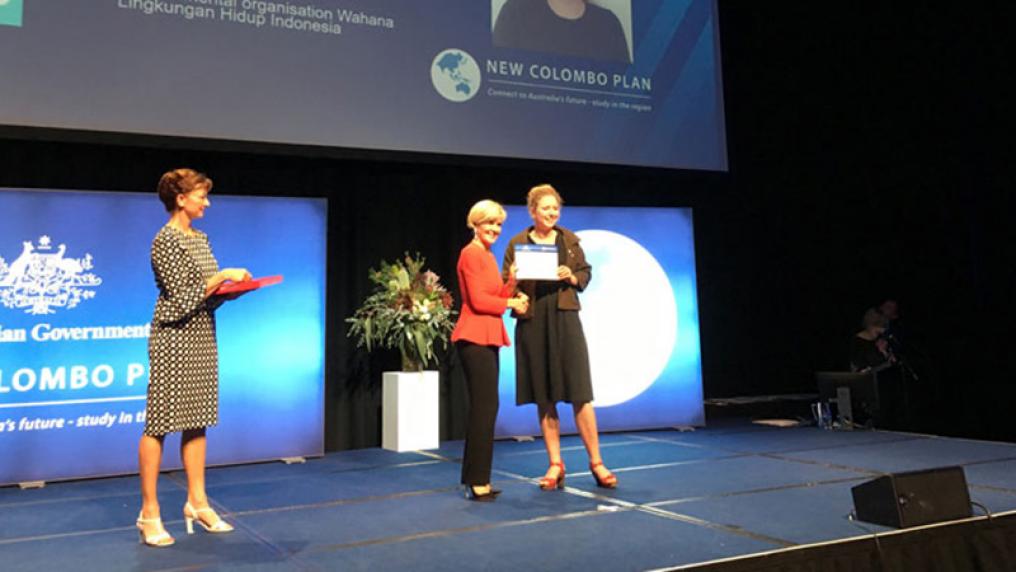 It's been amazing – I've grown so much as a person in the sense of what I want to do after university.
Mia Dunphy, Australia
Bachelor of Community Development
Reflecting on the year that was, Mia Dunphy says she has "grown so much" since she left Australia in July 2018 to embark on an Indonesian study experience.
Mia, who graduated from her Bachelor of Community Development at Victoria University (VU) in December 2018, has studied at Gajah Mada University (UGM) in Indonesia for one semester with the support of the Australian Government's New Colombo Plan (NCP) Scholarship.
During this time she was invited to exclusive government events including the official opening of the Australian Consulate General in Surabaya, attended by Australian politician Julie Bishop, and has also managed to fit in weekly language training sessions and two internships concurrently.
Professional development
Mia completed an internship with the Australia-Indonesia Youth Association as a community development officer primarily involved coordinating with various organisations to hold events, while as a research officer with the Asia Pacific Centre at UGM she played a key role in assisting with the sustainable tourism program.
"It's been amazing – I've grown so much as a person in the sense of what I want to do after university," Mia, speaking from her residency in Yogyakarta, said.
"I've applied to do further study in the area of women's empowerment and climate change adaption – I always thought I wanted to go into environmental sustainability and human rights but my focus has changed quite a bit since I've been here.
"On a personal level, I've also become a lot more confident."
As her NCP Scholarship drew to a close, Mia's final assignment saw her spend a month in Fiji, working with environmental women's groups.
Living, working & studying overseas
"It's been an amazing journey, but at the same time, it's had its challenges.
"For one thing, the language barrier has been difficult at times – I came to Indonesia with next to no language skills but now I can speak a little Bahasa.
"There have also been some health challenges and general issues adjusting to Indonesian life and how different it is to Australia; it does take a while to get your head around."
VU's 2019 New Colombo Plan scholars
VU students Laurence Fudim and Audrey Dalton-Power were announced as recipients of the 2019 scholarship round, and departed for Japan and Fiji respectively in July 2019.
Laurence, who is studying a Bachelor of Laws, spent his three trimester scholarship at the International Christian University in Tokyo, while Audrey (Bachelor of Community Development) studied one semester at the University of the South Pacific in Suva.
In 2019, the NCP supported 125 undergraduates from 37 universities to live, study and gain work experience in 24 locations across the Indo-Pacific, including the Cook Islands, French Polynesia and Samoa for the first time.