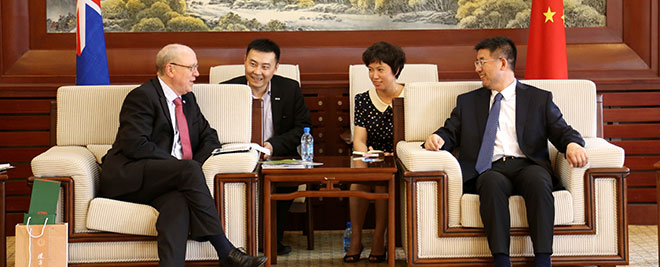 Victoria University this year celebrates the 15th anniversary of its transnational education partnership with Liaoning University (LU), one of China's leading universities, located in Shenyang, northeast of Beijing.
Since the partnership was established in 1999 as one of the VU's first steps to engage with the China education system, thousands of high-achieving Chinese students have earned dual VU and LU Bachelor of Business degrees in three specialisations from the joint school the partners operate – the Asia-Australia Business College (AABC) at LU.
Graduates acquire the benefits that come with an international four-year bilingual and bicultural professional education such as critical thinking, work-integrated learning and team problem-solving. AABC alumni now occupy high-level positions in private banking and finance, as well as in the public sector, in both China and Australia.
About 450 new students a year enrol in the VU and LU degrees at AABC, which is recognised in both China and Australia as a model of high-quality Australian transnational education.
The VU Bachelor of Business, which is jointly taught in English by VU and LU staff, can be completed entirely in China, enabling Chinese students to achieve an international degree at a fraction of the cost of off-shore study. Students may also complete their first two years in China, and then spend the following two years at VU in Australia. This 2+2 model provides the benefits of study in two countries. About 300 students a year transfer for the international experience, and many continue on to complete postgraduate qualifications in Australia, especially in accounting.
In July this year, the partners, represented by VU Vice Chancellor and President Professor Peter Dawkins and LU President Professor Huang Taiyan, signed a new general agreement to extend their relationship for another 10 years by continuing to offering the dual Bachelor of Business awards, as well as investigating expanding into new courses.
VU Chancellor George Pappas AO and Deputy Vice-Chancellor Professor Duncan Bentley will travel to LU to mark the 15th anniversary of the partnership this September. Commemorations will include the establishment of an AABC alumni chapter – VU's first alumni association in China – as well as an Australian garden on the beautiful Liaoning University campus.
Victoria University is a well-regarded Australian leader in transnational education, not only in China, but in other Asian countries. It is one of the largest providers of Australian qualifications in China through its important AABC joint school at Liaoning, as well as its long-standing partnerships with three other Chinese universities: the Central University of Finance and Economics in Beijing; Shandong Jianzhu University in Jinan; and Henan University in Kaifeng.