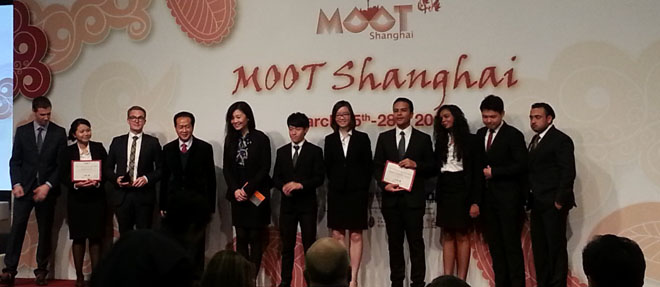 Victoria University law students continue to prove they are legal eagles with their recent soaring achievements at international moot court competitions in Shanghai and Hong Kong.
The success of VU's moot program – mock court proceedings – is a testament to the College of Law and Justice's commitment to enhancing students' legal skills, such as advocacy, to be better equipped for practise in the real world.
Bachelor of Law students, Scott Smith and Mitchell Latham made it through seven rounds to the Grand Final to receive the coveted Champion of the Moot Shanghai 2014, beating out 28 teams from law schools in 11 countries in the US, Europe and Asia.
The team's achievement put VU at the top of participating law schools, which included Loyola University Chicago, Singapore Management University, University of Helsinki and the University of Cologne.
Scott was also awarded Runner-Up Best Speaker and Mitchell, Honourable Mention Best Speaker by the 100 judges comprising past and present legal practitioners, judicial officers and arbitrators.
Law Lecturer Vivi Tan, who coaches VU's moot teams, said the pair's performances were solid and consistent throughout.
"They had an excellent knowledge of the facts and the relevant law. Further, they were poised, persuasive and responsive to questions from the bench, communicating using a highly sophisticated form of advocacy."
After Shanghai, both students competed in the Vis East Moot in Hong Kong where they reached 11th out of 99 international teams. Mitchell received another Honorable Mention for Best Speaker and was ranked 13th from a total of 194 mooters.
Another VU team, third-year students Nathan Taylor and Andrew Dowling, competed recently in Vienna, Austria, and also performed well. From more than 1000 students and 300 teams, Nathan received an Honorable Mention for Best Speaker, putting him in the top 5% of competitors.
The moot courts at Victoria Law School's City Queen Campus give students an opportunity to simulate proceedings, draft written appellate submissions and present legal arguments.
Ms Tan said VU's mooting success had presented many opportunities for the University including being able to attract eminent international scholars to teach in the summer program and providing students with meaningful insights into the profession.
Next month, VU will host an inaugural Air Law Moot Competition for all law students in Australia and New Zealand. The case scenario involves passenger liability claims that may arise from a fictional air crash incident.
This will be followed by the 4th Annual Hon. Michael Kirby Contract Law Moot in September. The moot has been described as a "fixture on the legal calendar" and is another significant contributor to the College of Law and Justice's reputation as a front-runner in practical legal education.