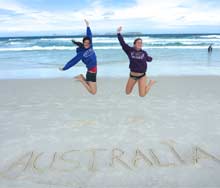 We have an exciting program for our exchange or study abroad students to help make coming to study in Melbourne a lot easier.
Aussie Mates are current VU students who will help you:
make new friends
get to know Melbourne
cope with how different it is studying here
enjoy on- and off-campus social activities.
Join the Aussie Mates at Victoria University Facebook group for the latest updates on activities around campus.
"I recommend signing up for the Aussie Mate program as they organise several events, and if you live outside the centre of the city, I definitely recommend you go into Melbourne CBD and make sure you really see the city while you're here - Melbourne is a beautiful place!"
Marie Lie Boettinger, on exchange from Norway
Register your interest
If you are a new exchange or study abroad student and you would like to connect with an Aussie Mate, register your interest by emailing aussiematesclub@gmail.com.
Once the semester starts, you can:
meet your Aussie Mate in person
learn more about your campus and what Melbourne has to offer
attend social events with other Australians and internationals throughout the semester, such as Australian BBQs and weekend excursions.