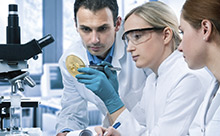 Melbourne is an internationally recognised biotechnology hub and has the highest concentration of biotechnology companies and research clusters in Australia.
Our program has a strong emphasis on the development of laboratory based skills for which the university is equipped with excellent facilities. In addition, the smaller class sizes allow students to receive personalised attention.
This program will give you the opportunity to experience biotechnology through both classroom and practical laboratory settings to help prepare you for a successful career in the field.
Program structure
To receive the Certificate, you must successfully complete four units of study (courses) in one semester.
Semester 1
Semester 2
Entry requirements
To be part of the Study Abroad Certificate program, students must have:
completed one year of tertiary study
fulfilled their home institution's academic requirements for overseas study
have a 2.5 Grade Point Average on a 4.0 scale
provided documentation supporting their English language proficiency.
Key dates
Semester 1: February to June
Semester 2: July to November
Contact your International Programs Office for application closing dates.
Contact us
For more detail about the Certificate in Biotechnology, contact the Victoria Abroad team:
Phone: +61 3 9919 1921 | +61 3 9919 1319
Email: educationabroad@vu.edu.au