Complete the Airport Reception Request form at least ten days before you intend to arrive.
When you arrive at Melbourne Airport you'll complete customs and quarantine clearance. After that a representative of TOGOTO will meet you. The driver will be holding a sign that reads 'TOGOTO AUSTRALIA - OVERSEAS STUDENT'.
Please note: TOGOTO pick up service will not operate on:
25 December (Christmas Day)
26 December (Boxing Day).
On 31 December (New Year's Eve) the TOGOTO service will be available up until 6.00pm. It will resume on 1 January (New Year's Day) at 8.00am.
If you will be arriving in Melbourne during these unavailable times you will have to organise your own transportation. Skybus and Taxi services will be available at the airport.
Victoria University (VU) will meet you at Melbourne Airport when you arrive as a new student and take you to your accommodation. We offer this airport reception service to all new international students.
In 'Airport reception for international students':
Delays, changes or cancellations
Please call us on +61 3 9919 4953 during business hours (9am – 5pm Monday to Friday) if:
your flight is delayed
you miss your connecting flight to Melbourne
you can't find your driver.
If your flight will arrive after business hours contact Ellen directly on +61 409 503 646.
Cancellations of the service must be made 24 hours in advance of your original arrival time. Cancellations can be made by emailing togoto@togoto.com.au and international.arrivals@vu.edu.au.
Airports
Melbourne Airport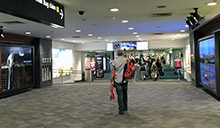 Melbourne Airport is about 25 minutes drive from the city via the Tullamarine Freeway. From Melbourne Airport you can arrange a hire car, catch the Skybus super shuttle to Melbourne's Central Business District, or catch a taxi to your final destination. These are some of the transport options to and from Melbourne Airport. Find your way around Melbourne Airport using these interactive maps.
Avalon Airport
Most students from international destinations arrive at Melbourne Airport. Some domestic airlines fly to and from Avalon Airport, which is about 40 minutes from Melbourne. You can get there by car or taxi. Specify which airport you will arrive at on your airport reception booking.
Student Welcome Desk
The City of Melbourne and Melbourne (Tullamarine) Airport offer a free Student Welcome Desk at peak arrival times for new international students arriving in Melbourne. The Welcome Desk offers advice and information on:
safety and emergency contact information
getting around Melbourne, maps, places to visit and major events
practical information about employment, banking and tax
temporary and permanent accommodation.
They also provide a free welcome pack for international students.
Find the dates, times and services offered by the international Student Welcome Desk at Melbourne Airport.
Eligibility & children
International, Study Abroad/Exchange and Ausaid students commencing their first semester at Victoria University are eligible for pickup.
An additional fee of $40 (Australian dollars) per person will be charged for each additional passenger who is accompanying an eligible student. This fee is due in cash to the driver on arrival at your destination.
When traveling with children please indicate each child as an 'Extra Passenger' on the online form. For children under ten years old you must indicate their age in the 'Special Requirements' section so that appropriate seating can be organised.
You must apply for pickup at least seven to ten business days prior your arrival (Monday to Friday Australian Time). Late applications may not be accepted.
Baggage
TOGOTO allows a maximum baggage limit of 40kg, or 2 pieces of standard check-in luggage and one carry on item. There is no additional fee for larger luggage but TOGOTO may ask you to wait for the next shuttle.
No bikes, surfboards, golf equipment or other large items are allowed.
Confirmation
You will receive a confirmation email of your booking within 24-48 hours. The confirmation will outline instructions for when you arrive at the airport.
Arrive in Melbourne on time
You should aim to arrive in Melbourne at least one week before orientation week at VU. This will give you time to find the University and settle into your accommodation. Check your letter of offer and the academic calendar to make sure you know when all the important dates are for your first semester.
Contact
Contact TOGOTO at togoto@togoto.com.au if there are any changes to your flight details and also email international.arrivals@vu.edu.au.