Get a trade skill under your belt. Whether you are interested in building and construction, hospitality, beauty, home and gardening or even massage, we have a variety of courses to help get you started. We are focused on the delivery of apprenticeship, pre-apprenticeship, skills recognition and other programs tailored to industry needs. Gain skills to take you further you can study our huge range of short courses, TAFE certificates and diplomas.
Careers
Many of our graduates gain employment in the following industries:
construction
engineering
hairdressing
hospitality
make-up.
Colleges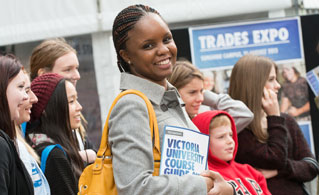 Short courses
1 course
EAP is a university and TAFE preparation course. It is designed for students with upper intermediate to advanced levels of English who want to gain admission to an Australian TAFE, undergraduate or postgraduate course.
Studying at VU
Learn more about studying at VU as a non-resident:
When I started at VU English, I couldn't say anything so I studied carefully and hard so at the moment, I've got many international friends and I can speak better than before. That is my first experience of study in my life so I have pride in VU English and their teachers are really good as well.

Jeongun Mun (Korea)