Start studying for a rewarding career in social work from Victoria University. From disability services through to traditional social work roles, we offer learning at degree level.
Careers
Our graduates find employment opportunities across the following sectors:
social worker
community work
disability services.
Short courses
1 course
EAP is a university and TAFE preparation course. It is designed for students with upper intermediate to advanced levels of English who want to gain admission to an Australian TAFE, undergraduate or postgraduate course.
Bachelor degrees (undergraduate)
1 course
Fees:
2019: A$11,700*
* fee per semester
Campus:
Footscray Nicholson
Create a career that improves the quality of life and develops the potential of individuals, groups and communities. Social workers are involved with people at individual, family, and community levels to bring about change.
Postgraduate research
1 course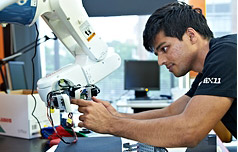 Research postgraduate
Our Office for Research provides support to our current and future researchers, such as:
identify a research topic
find a supervisor
apply for research supervision or grants.
Fees:
2019: A$14,000** fee per semester
Intakes:
2019: February and July
Campus:
Footscray Nicholson, Footscray Park
Learn best-practice research methods, then apply them to ground-breaking study, with an integrated PhD in society and culture.
Studying at VU
Learn more about studying at VU as a non-resident: