Victoria University has awarded Dr Diana Natalicio, from the University of Texas at El Paso (UTEP), with an Honorary Doctorate.
The tyranny of distance was not an issue thanks to Zoom technology when VU Chancellor Mr George Pappas AO and Vice-Chancellor Professor Peter Dawkins presented the degree.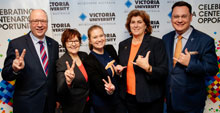 A bustling room at VU's City Flinders campus looked on as the President of UTEP accepted her award surrounded by colleagues and two VU students – Ms Elisse Baitz and Ms Sheridan Buesnel-May.
Dr Natalicio, who was named a key person of influence in Time magazine's 100 Most Influential People (2016), said she was deeply honoured by the award.
In her acceptance speech the UTEP President reflected on how the two universities are alike. "Our connection is very important; we are on opposite sides of the world, yet we have much in common and much to share", she said.
After the proceedings, a panel discussed ideas around excellence within the tertiary sector. The panel was made up of:
Professor Dawkins (VU)
Professor Belinda Tynan (RMIT)
Professor Ian Solomonides (VU)
Dr Sara Glover (Director, Mitchell Institute)
Professor Richard Teese (VU)
Dr Gary Edens (UTEP).
To close proceedings, guests from UTEP, Dr Gary Edens (Vice President Students) and Dr Donna Ekal (Associate Provost), received Centenary medallions. They also launched the Ten Years of a Global Partnership, an e-book charting the partnership between VU and UTEP.
The monograph commemorates the 10-year global partnership and serves as a lasting reminder of VU's connection to UTEP.
Ten Years of a Global Partnership, is now available online.
To learn more about VU/UTEP exchange opportunities for 2017, send enquiries to [email protected].