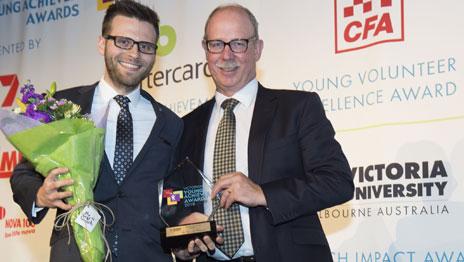 A Victoria University academic and a PhD student were honoured in the Victorian Young Achiever Awards at a 500-guest gala event earlier this month.
The purpose of the annual awards is to acknowledge, encourage and promote the positive achievements of young people aged in Victoria aged 29 or under.
Dr Catherine (Xiaocui) Lou, 29, a lecturer in supply chain and logistics in VU's College of Business, and project manager of the University's Victoria Business Confucius Institute, was a semi-finalist in the University of Melbourne Science and Technology Award.
Dr Lou has had her PhD research published in International journals. Her research involves developing a comprehensive risk management framework for use in the integration of supply chain management.
James Sorensen, 29, was a nominee in the University of Melbourne Science and Technology Award. James is completing his PhD research investigating how chemotherapies affect cancer patient's skeletal muscle health and survivability.
He is using cutting-edge technology to establish mitochondrial medicine as an effective therapy against chemotherapy-induced muscle dysfunction and wasting with an aim to improve chemotherapy patient survival rates and quality of life.
Victoria University supports the Young Achiever program through the creation and sponsorship of the Victoria University Research Impact Award.
This Award recognises and honours the next generation of researchers whose intelligent and visionary achievements and discoveries will shape our future world.
The Award was won this year by Dr Francois Petitjean, 29 of the Monash Centre for Data Science. Dr Petitjean has developed new algorithms that can apply to enormous datasets without sacrificing accuracy.
His work has unlocked the potential to develop more powerful and heat-resistant anti-inflammatory drugs and discover new symptoms of rare diseases.