Boxing champion Danny 'the Green Machine' Green stood yesterday with past and present AFL football legends to slam the coward punch as senseless violence.
At the same time, the former world boxing champion announced to a crowded media conference at Victoria University's Footscray Park Campus the details of his next fight in August.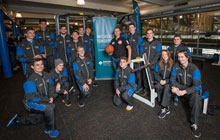 "I get asked a lot about why a fighter would be championing a cause against violence, but this is a platform for me to take the campaign into schools and educate youth.
"The only place to throw a punch is the boxing ring," he said.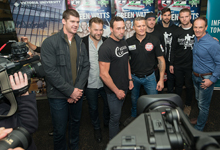 Green said he was pleased to get the backing of other athletes at the announcement, including Western Bulldogs' Jake Stringer, Collingwood's Dane Swan, and former AFL stars Terry Wallace and Jonathon Brown.
Green spent time during his VU visit with basketball academy students from Victoria Polytechnic, Victoria University's TAFE division.
The announcement was covered by a range of media and hosted by current affairs panellist and comedian Anthony 'Lehmo' Lehmann.
Green described the recent death of boxing giant Muhammad Ali as a devastating loss, since he was an icon "who inspired so many people, not just from boxing, not just from sport, but from across the globe."