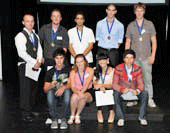 Nine Victoria University students will head to Brisbane for the national finals of the WorldSkills Competition after winning state titles.
The biannual WorldSkills event tests the skills and dedication of young apprentices and trainees in their chosen fields.
VU's winning students are from the fields of bricklaying, beauty care, construction steelwork, plumbing, signcraft, welding, electrical installation and painting and decorating.
Each student will compete in the Australian WorldSkills Competition in Brisbane May 7-12 for a chance at a gold, silver or bronze medal and a national title. About 250 qualified judges will assess their talent on national and international standards, employability aptitude and training packages, along with 500 other competitors from some 50 trade and skill categories.
Winning students will become part of a national WorldSkills team, the 'Skillaroos,' and represent Australia in London in 2011 at the 41st International WorldSkills Competition.
VU champions with their area of study and home suburb/ town are:
Ashley Borg, Beauty Care, Altona Meadows
Mervarne Wakefield, Construction Steelwork, Bell Post Hill
Jarryd Cutajar, Plumbing, Deer Park
Cory Hart, Sheetmetal Work, Ringwood East
Thomas Bolton, Signcraft, Boronia
Matthew Paterson, Welding, Melton
Grant King, Bricklaying, Belmont
Paul Pergolizzi, Painting and Decorating, Sunbury
Nathan Cassar, Electrical Installation Systems, Kurunjang
The students are available for interview.
Media contact:
Ann Marie Angebrandt, Media Officer
Marketing and Communications Department, Victoria University
Ph:+61 3 9919 5487 or mobile: 0403 556 001