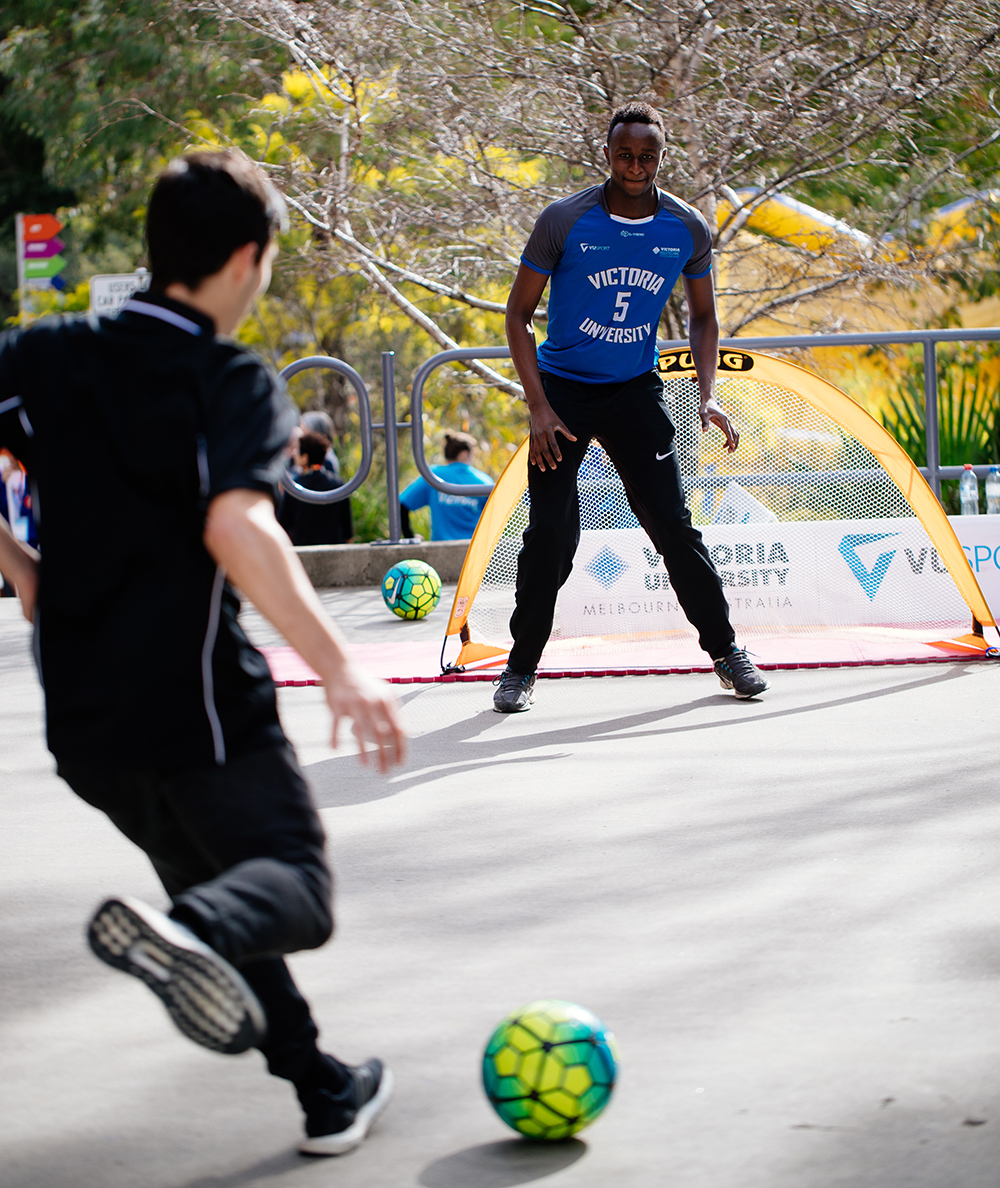 The VU Soccer Academy is focused on delivering a combined education and soccer program through high performance soccer coaching, player development and sports education. We support players' long-term career paths through direct partnerships with educational institutions, clubs and football federations.
Our customised football development programs have been built to deliver an exceptional standard of football and education, while fostering a sustainable career path for male and female students from high school through to university.
We only engage qualified and experienced coaches to deliver on-pitch instruction within a unique training environment.
Our football programs prepare players for accredited coaching certificates. Our students are exposed to the teaching theory of coaching and how to expertly deliver coaching content.
VU Soccer Academy offerings
We offer:
nationally recognised SIS50612 Diploma Sport Development qualification from Victoria University
use of VU learning and teaching facilities and fitness centres as well as VU's $68 million sport & exercise science laboratories
student induction pack
VU Sport Academy uniform
high performance sport specific educational delivery which may include the attainment of sport specific coaching qualifications (grassroots football certificate, skill and game training certificate, and senior coaching certificate)
sport specific training by highly qualified and experienced coaches
further study & career pathways.
Practical experience
You will have access to the highest quality coaching and teaching to provide hands-on learning. Everything you learn with us has direct links to your future career and will add to your understanding of professional sport.
We place a strong emphasis on both the on-course and off-course experience that you will be able to apply in a real world context.
Student focused
As a student at Victoria University, you will join an incredibly diverse, motivated and friendly group of people from all walks of life and all educational backgrounds. We pride ourselves on having teachers who make a point of getting to know you.
You will be recognised as an individual with current needs and future career aspirations, and you will get one-on-one support to help you get there. Just like in real life, you will be challenged and you will be given opportunities – but we will be there to guide you every step of the way.
Academy structure
A typical week consists of a mix of classroom theory in a blend of:
face to face delivery
online self-directed study
engagement with community in a work integrated learning context.
Much of this learning is boosted in the daily soccer training, strength and conditioning sessions.
The training and gym sessions are carefully balanced in terms of scheduling, volume and intensity. The goal is to balance our athlete's performance and developmental requirements and the educational outcomes of the program.
Classroom & training sessions
Face to face educational delivery take up approximately 16-18 hours per week.
Training sessions of 8-10 hours per week at the Footscray Park campus, Footscray.
Careers
Potential career options after completing the course are:
competition manager
program developer
talent development manager
sport development manager
professional athlete
soccer coach.
Contact us
If you want further information complete the online enquiry form on the course page.
Phone: +613 9919 6100.