Overview
Become a skilled healthcare professional, eligible to practise and register as an osteopath, with a Master of Health Science from VU.
This course will equip you with the knowledge and diagnostic skills to confidently begin your osteopathy career.
VU offers one of only three accredited osteopathy programs in Australia. This masters follows on from the Bachelor of Science (Osteopathy). Together, the courses provide eligibility for registration to practice as an osteopath.
Our highly regarded course has an extensive work-experience program, with hands-on practice at our professional clinics.
You'll graduate skilled in formulating suitable and safe treatment programs, including soft-tissue techniques, joint mobilisation and exercise rehabilitation. You'll have the diagnostic skills and graduate capabilities for osteopathic practice required by primary healthcare practitioners.
Following the overwhelming success of the revolutionary VU Block Model with undergraduate students, we have rolled out the Block Model to our postgraduate courses.
This course is delivered in four-week mode, which means you study one unit (subject) at a time over four weeks, rather than juggling several units at once. And with its focused timetables and smaller, collaborative classes, VU's Block Model gives you more time to connect with your peers, lecturers and industry partners, helping you to build strong professional networks.
The VU Block Model has improved our student results and engagement, and has won multiple international awards for innovation and excellence.
VU is held in high regard in the industry for our hands-on approach and extensive clinical placements.
Treating patients at our Osteopathy Clinic, as well as external community clinical engagements, ensures you have a diverse clinical experience.
Our osteopathy teaching clinic operates 47 weeks of the year. As part of our masters program, you'll attend clinical sessions on a rotational basis. You'll gain real-world experience working with paying patients.
These clinics also run outside of semester hours, to maintain a public service and provide continuity of patient care.
This course, in combination with the Bachelor of Science (Osteopathy), is one of only three Osteopathy dual-qualification programs accredited by the Australasian Osteopathic Accreditation Council (AOAC).
The AOAC is an independent organisation that assesses and accredits osteopathic education programs. Accreditation from the AOAC allows graduates to register as an osteopath in Australia.
Our course meets the AOAC accreditation standards. This ensures that the knowledge, skills and professional attributes we teach match best-practice national healthcare expectations.
With our dual-qualification in osteopathy, including the Bachelor of Science (Osteopathy), you can gain the following registrations and memberships:
registration with the Osteopathy Board of Australia
registration as an osteopath in all other Australian states and in New Zealand
membership with Osteopathy Australia.
For further information about registration requirements, visit the Australian Health Practitioner Regulation Agency.
When you study osteopathy at VU, you'll be part of the bigger College of Sport, Health and Engineering. This college supports its students with international industry contacts, world-class research centres and a Dean's lecture series by leaders in the health profession.
Osteopathy students study at our City Campus. The convenient location makes studying easier and the surrounding laneways, cafes and restaurants add to its appeal.
To qualify for admission into the Master of Health Sciences (Osteopathy) program, applicants must have satisfactorily completed the Bachelor of Science (Osteopathy) (HBSO), or equivalent Bachelor degree with major in osteopathy.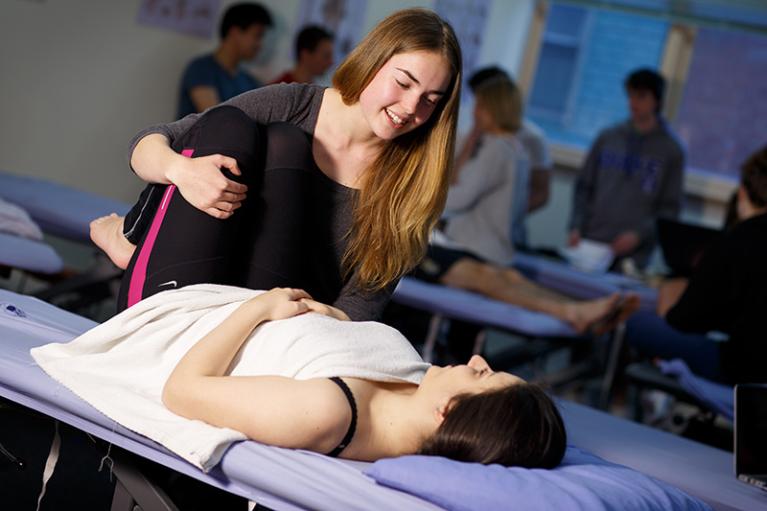 Gain real-world experience treating patients at our Osteopathy Clinic.
Careers in osteopathy
Our Masters of Health Science (Osteopathy) qualifies you to register as a practising osteopath.
Many osteopaths have their own private practice. Osteopaths can work in a variety of healthcare settings:
private clinics
hospitals
maternal health centres
community organisations.
Salaries
See the average salary for osteopaths in Australia via Labour Market Insights.
Course structure
To attain the Master of Health Science (Osteopathy), students will be required to complete 144 credit points in total consisting of Core Studies.
Year 1, Semester 1
Unit code

HMO7001

Credits

12

Unit code

HMO7002

Credits

12

Unit code

HMH7105

Credits

12

Unit code

HMO7007

Credits

12
Year 1, Semester 2
Unit code

HMO7003

Credits

12

Unit code

HMH7205

Credits

12

Unit code

HMO7004

Credits

12

Unit code

HMO7008

Credits

12
Year 2, Semester 1
Unit code

HMH7305

Credits

12

Unit code

HMO7005

Credits

12

Unit code

HMO7009

Credits

12

Unit code

HMO7006

Credits

12
On successful completion of this course, students will be able to:
| | | | |
| --- | --- | --- | --- |
|   | 1. | Justify their philosophical position as an osteopath within the profession and broader Australian healthcare system; |   |
|   | 2. | Critically appraise and apply scholarly literature related to osteopathic philosophy and practice, as well as the broader healthcare field/area; |   |
|   | 3. | Design a patient-specific and evidence informed management plan based on the interpretation of physical, neurological, orthopaedic and osteopathic examination findings and clinical experience; |   |
|   | 4. | Resolve patient concerns as a flexible, reflective and consultative practitioner; |   |
|   | 5. | Implement osteopathic manual techniques to specialised patient populations (E.G. elderly, adolescents, athletes) as well as patient groups with specific cultural and religious needs; |   |
|   | 6. | Engage patients and the community by promoting health through effective communication, education and appropriate management based on evidence from osteopathic and public health principles; |   |
|   | 7. | Evaluate patient progress using standardised outcome measures, and modify treatment accordingly considering current available evidence and when indicated, explore new treatment approaches; |   |
|   | 8. | Design a research project relevant to their own professional practice, drawing on current evidence and study design protocols; |   |
|   | 9. | Critically reflect on theoretical concepts, practical activities and personal and clinical experiences to inform practice and embrace lifelong learning as an osteopath. |   |
What's a unit?
A unit or 'subject' is the actual class you'll attend in the process of completing a course.
Most courses have a mixture of compulsory 'core' units that you need to take and optional elective units that you can choose to take based on your area of interest, expertise or experience.
Credits
Each unit is worth a set amount of study credits based on the amount of time you study. Generally, 1 credit is equal to 1 hour of study per week.
Admission & pathways
Meeting the minimum admission requirements does not guarantee you entry into this course. Some courses receive more applications than the number of places available. In this situation we will also assess your education, work and other relevant experience.
If you do not meet the minimum requirements you may be eligible for one of our special admission programs. We also encourage you to explore our study pathways to help you reach your goal.
Find out more about how to apply for our courses, and our commitment to admissions transparency.
Entry requirements
Completion of an Australian Bachelor degree in Osteopathy.
There are many ways you can start your education journey at VU. Pathways offer an easy transition between courses at different levels, so that you can start with a certificate and progress right through to postgraduate study.
Find out more about pathways and credits.
Use our credit calculator to find out how much credit you could get towards your course, based on your previous study.
If you have completed study with another university or institution and believe you are eligible to receive credit for skills and past study, you can apply for advanced standing.
Applications for advanced standing can be made after a discussion with your course chair or academic adviser.
Additional information
Before enrolling in this degree students must have successfully completed a First Aid Level 2 (certificate update), Working With Children Check (WWCC) and Police Check.
How to apply
Applications for this course are not being taken at this time.
Browse our other Osteopathy courses or send us an enquiry to be notified of updates relating to this course.
Enquire now
Please fill out the form below, and we'll get back to you shortly.
Information marked with an asterisk "
*
" is required.
At Victoria University, we aim to display accurate and complete course information online. However, we are unable to guarantee that every course change is currently displayed. You may contact the University directly on +61 3 9919 6100 to confirm the most up-to-date course fees, pathways and credit transfer, recognition of prior learning, admission and enrolment procedures, examinations and services available to our students.