Overview
Research an engineering topic that stirs your interest and develops your expertise, with guidance from our expert supervisors.
Increase your knowledge and practical skills with a research project in a specific area of engineering.
Our College of Engineering and Science has high-tech engineering labs and a very strong research community.
In the latest Excellence in Research for Australia results we were rated:
'well above world standard' in electrical and electronic engineering
'above world standard' in engineering overall.
VU's engineering research areas include:
You'll graduate with well-developed skills for creating innovative engineering solutions. You may progress to higher-level (doctoral) study.
When you study for a Masters of Engineering with VU, you'll be part of a world-class research environment.
We have associated institutes and centres that conduct independent research. The centres work closely with industry and community partners to produce cutting-edge, innovative engineering solutions.
As part of your masters research, you'll have the chance to work with these institutes, which include:
We offer fantastic opportunities to work with other universities and industry partners, as part of your research.
University partnerships include:
Deakin University
University of NSW
Technion
University of California Los Angeles
Sunchon National University (Korea)
University of Texas, El Paso (UTEP)
Nanjing University of Technology
Fudan University (China).
Industry and government partners include:
Barwon Water
Central Highlands Water
City West Water
Crusader Hose Pty Ltd
CSIRO
Dairy Innovation Australia Ltd
Departments of Health, Primary Industries, Sustainability and Environment
Fonterra cooperative
Ericsson
GWMWater
Melbourne Water
Regional Victoria Food Clusters
Telstra
Veolia Water Australia Pty Ltd
Victoria Chemical Company
Water Research Australia
Western Water.
VU offers world-class engineering research facilities. We have specialised labs in many areas, including:
geomechanics
hydraulics
thermodynamics
microelectronics
information technology
power engineering
mechanics.
Our Werribee Campus is part of a modern technology precinct with cutting edge science facilities and a research centre, the Institute for Sustainability and Innovation.
We have a range of scholarships for postgraduate research to assist with the costs of study.
The College of Engineering and Science also provides 10 summer research scholarships to conduct research during the summer (up to 12 weeks) under the supervision of established researchers, and write-up scholarships for students to complete manuscripts for publication with their supervisors.
As a postgraduate student you might want to take up one of many opportunities to further develop your academic language and study skills. VU's Learning Hubs are welcoming spaces where you can improve your study and employability skills.
We offer maths, writing, careers and English-language advice, and show you effective ways to study and manage your time.
Our programs include:
workshops
drop-in sessions
peer mentoring
maths and writing resources
resume and career guidance.
We also have accessibility support services and counselling services available for all students.
Our campus libraries have photocopying, computing and printing facilities as well as electronic and print resources.
You'll also have access to a rich collection of online resources at any time of the day or night, including:
databases
e-learning content for courses
student email
student software packages
social networking tools.
On campus, we make sure that all of our students have access to digital resources. We offer: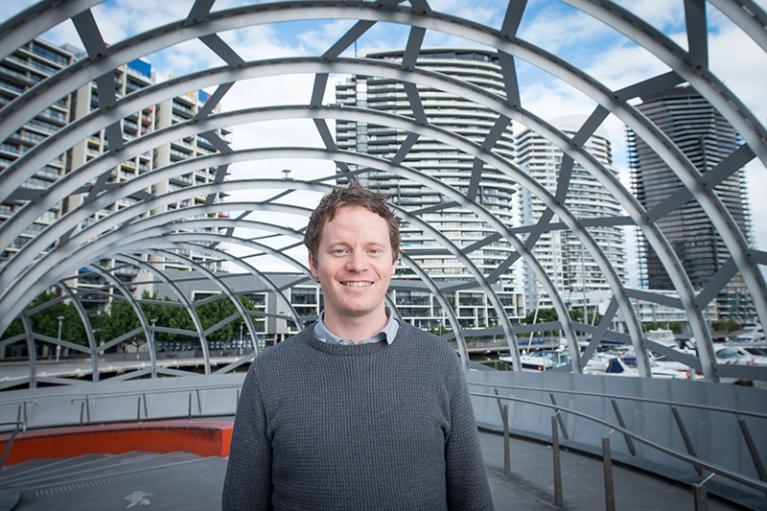 Conduct ground-breaking research in a world-class engineering community
Careers in engineering
Prepare for a career researching and developing engineering solutions.
You may find a role in government or the private sector in one of the following, depending on your specialisation:
power generation, transmission, distribution, management and control
managing, designing and developing telecommunication network systems
microelectronic and electronic design
water-related government organisations and private firms.
Our Master of Engineering (by Research) prepares you for one of these roles:
engineer
research assistant
research technician.
Average salaries
Course structure
The standard duration of a Masters Degree (Research) is two years of full-time study or part-time equivalent, although in certain circumstances the degree may be completed in eighteen months.
In some cases the student may be required to complete approved coursework units such as laboratory skills or research design as part of the Masters Degree (Research).
FULL-TIME STUDY
College of engineering and science
Civil & Building Engineering stream:
Unit code

VCC8001

Credits

48

Unit code

VCC8002

Credits

48
Electrical Engineering stream:
Unit code

VEE8001

Credits

48

Unit code

VEE8002

Credits

48
Mechanical Engineering stream:
Unit code

VMR8001

Credits

48

Unit code

VMR8002

Credits

48
Packaging Stream:
Unit code

VPP8001

Credits

48

Unit code

VPP8002

Credits

48
Transportation stream:
Unit code

VPT8001

Credits

48

Unit code

VPT8002

Credits

48
Physics stream:
Unit code

RPH8001

Credits

48

Unit code

RPH8002

Credits

48
CENTRE FOR ENVIRONMENTAL AND RISK ENGINEERING:
Unit code

VQT8001

Credits

48

Unit code

VQT8002

Credits

48
PART-TIME STUDY
College of engineering and science
Civil & Building Engineering stream
Unit code

VCC8011

Credits

24

Unit code

VCC8011

Credits

24
Electrical Engineering stream
Unit code

VEE8011

Credits

24

Unit code

VEE8012

Credits

24
Mechanical Engineering stream
Unit code

VMR8011

Credits

24

Unit code

VMR8012

Credits

24
Packaging Stream
Unit code

VPP8011

Credits

24

Unit code

VPP8012

Credits

24
Transportation stream
Unit code

VPT8011

Credits

24

Unit code

VPT8012

Credits

24
Physics stream
Unit code

RPH8011

Credits

24

Unit code

RPH8012

Credits

24
Centre for environmental and risk engineering
Unit code

VQT8011

Credits

24

Unit code

VQT8012

Credits

24
The course objectives are to produce graduates who have the following knowledge and skills:
a body of knowledge that includes the understanding of recent developments in one or more discipline
advanced knowledge of research principles and methods applicable to the field of work or learning
cognitive skills to demonstrate mastery of theoretical knowledge and to reflect critically on theory and its application
cognitive, technical and creative skills to investigate, analyse and synthesise complex information, problems, concepts and theories and to apply established theories to different bodies of knowledge or practice
cognitive, technical and creative skills to generate and evaluate complex ideas and concepts at an abstract level
cognitive and technical skills to design, use and evaluate research and research method
communication and technical skills to present a coherent and sustained argument and to disseminate research results to specialist and non-specialist audience
technical and communication skills to design, evaluate, implement, analyse, theorise and disseminate research that makes a contribution to knowledge
This knowledge and these skills will be demonstrated through the planning and execution of a substantial piece of research
with creativity and initiative
with a high level of personal autonomy and accountability, demonstrating expert judgement, adaptability and responsibility as a learner.
What's a unit?
A unit or 'subject' is the actual class you'll attend in the process of completing a course.
Most courses have a mixture of compulsory 'core' units that you need to take, and optional \'elective\' units that you can choose to take based on your area of interest, expertise or experience.
Credits
Each unit is worth a set amount of study credits based on the amount of time you study. Generally, 1 credit is equal to 1 hour of study per week.
Admission & pathways
Meeting the minimum admission requirements does not guarantee you entry into this course.
Some courses receive more applications than the number of places available. In this situation we will also assess your education, work and other relevant experience.
If you do not meet the minimum requirements you may be eligible for one of our special admission programs. We also encourage you to explore our study pathways to help you reach your goal.
There are many ways you can start your education journey at VU. Pathways offer an easy transition between courses at different levels, so that you can start with a certificate and progress right through to postgraduate study.
Find out more about pathways and credits.
If you have completed study with another university or institution and believe you are eligible to receive credit for skills and past study, you can apply for advanced standing.
Applications for advanced standing can be made after a discussion with your course coordinator or academic adviser.
Enquire now
Please fill out the form below, and we'll get back to you shortly.

Information marked with an asterisk

*

is required.
Contact the Graduate Research Centre
At Victoria University, we aim to display accurate and complete course information online. However, we are unable to guarantee that every course change is currently displayed. You may contact the University directly on +61 3 9919 6100 to confirm the most up-to-date course fees, pathways and credit transfer, recognition of prior learning, admission and enrolment procedures, examinations and services available to our students.