Overview
Build on your industry experience to become a change management leader with the world-first Master of Change, Innovation and Leadership from Victoria University.
This business degree is designed to equip experienced professionals from diverse industries with sought-after skills. You'll develop techniques to build innovative teams, drive complex change and adjust quickly to new business conditions. You'll also learn to help individuals appreciate the complexity that surrounds organisational change, and strengthen their ability to manage change in their organisations.
The Master of Change, Innovation and Leadership program is developed in collaboration with industry leaders who have enormous change experience. These experts contribute towards the delivery of the program.
The change-management degree takes an interdisciplinary approach, blending business and psychology. Specifically, the course will provide you with the opportunity to articulate and challenge models or frameworks of change. You'll reflect on your knowledge and understanding of strategic change to become a valuable source of expertise in your organisation.
Following the overwhelming success of the revolutionary VU Block Model with undergraduate students, we have rolled out the Block Model to our postgraduate courses.
This course is now delivered in eight-week mode, which means you study two units (subjects) at a time over eight weeks (or one unit at a time over eight weeks for part-time study), rather than juggling several units at once. And with its focused timetables and smaller, collaborative classes, VU's Block Model gives you more time to connect with your peers, lecturers and industry partners, helping you to build strong professional networks.
The VU Block Model has improved our student results and engagement, and has won multiple international awards for innovation and excellence.
Our Master of Change, Innovation and Leadership is an innovative, flagship program. There is no equivalent change management course offered anywhere in Victoria or Australia.
This course has been specifically designed to fulfil industry need and was done so with strong input from industry change management professionals. Interviews, focus groups and a survey were conducted with senior change management staff across the public and private sector in a range of industries. Overwhelming feedback around the need for a formal qualification in organisational change management (OCM) has shaped this course.
The College of Business works closely with industry to ensure that you are qualified and prepared for a career as an OCM professional.
Practical learning is a priority at VU. Through face-to-face interactions, case studies and real life problem-solving sessions, you'll develop practical approaches that balance short-term success with long-term innovation.
This course also offers flexibility for you to get the most out of your study. The duration is 1.5 years full time and 3 years' equivalent part-time.
Our Master of Change, Innovation and Leadership can also form part of a pathway to further study. As part of this course, you'll have the opportunity to complete an extended research thesis project, which can meet requisite requirements for entry into DBA and PhD programs.
This course is offered through the Victoria Graduate School of Business (VGSB), located at our City Campus in Melbourne's CBD.
Featuring business incubators (high tech meeting rooms replicating a business centre) and industry-standard computer labs, the City campus offers a modern, spacious and comfortable learning environment.
You'll have access to professional online business databases and a specialist business librarian.
As a postgraduate student you might want to take up one of many opportunities to further develop your academic language and study skills. VU's Learning Hubs are welcoming spaces where you can improve your study and employability skills.
We offer maths, writing, careers and English-language advice, and show you effective ways to study and manage your time.
Our programs include:
workshops
drop-in sessions
peer mentoring
maths and writing resources
resume and career guidance.
We also have accessibility support services and counselling services available for all students.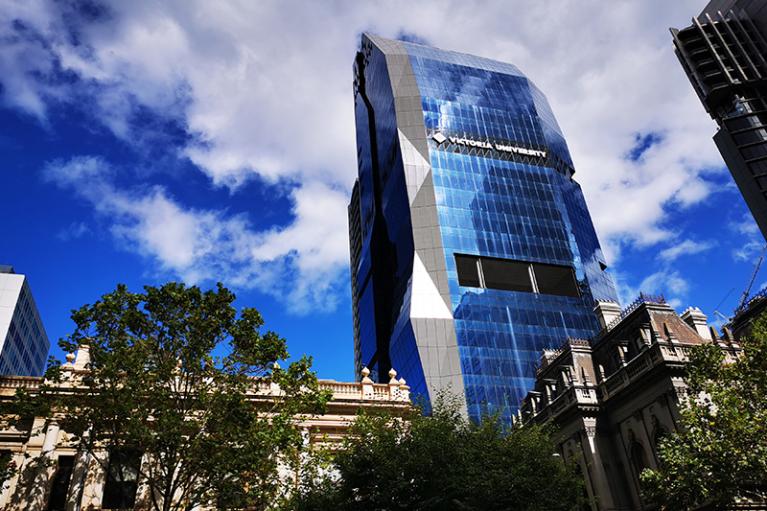 Study a Master of Change, Innovation and Leadership in Melbourne's CBD at our City Campus.
Careers in change management
Organisational change management (OCM) is a fast growing profession, with the demand for qualified professionals increasing as companies continuously refine and restructure. However, organisations have realised the lack of knowledge and understanding of the field of change management (with most studies showing a 60-70% failure rate). This course offers the recognised OCM qualification that will produce professionals with the necessary skills and thought leadership to fill this gap in the market.
Our Master of Change, Innovation and Leadership will ensure you are highly sought after in roles such as:
director or head of change
change management professional/consultant
organisational development consultant
program/project manager
ERP/SAP implementation professional
coaching and training professional.
Salaries
Find the average annual salary in Australia for a manager in change management at PayScale.
Course structure
To attain the Master of Change, Innovation and Leadership, students will be required to complete 144 credit points consisting of:
96 credit points professional core units
12 credit points BMO5501 Business Ethics and Sustainability
12 credit points BMO7006 Applied Business Project (Capstone)
24 credit points elective units from the approved list of elective suggestions. Please check any pre-requisite requirements prior to enrolling.
Professional Core Units
Unit code

BAO5734

Credits

12

Unit code

BMO6050

Credits

12

Unit code

BMO6622

Credits

12

Unit code

BMO7000

Credits

12

Unit code

BMO7001

Credits

12

Unit code

BMO7002

Credits

12

Unit code

BMO7003

Credits

12

Unit code

BMO7004

Credits

12
Core Units
Unit code

BMO5501

Credits

12

Unit code

BMO7006

Credits

12
24 credit points elective units
On successful completion of this course, students will be able to:
| | | | |
| --- | --- | --- | --- |
|   | 1. | Critically reflect upon theoretical approaches and analyse their application to achieve effective innovative change strategies; |   |
|   | 2. | Justify and interpret theoretical propositions and related bodies of knowledge to critically evaluate the resolution of business problems and recommend actions relevant to contemporary business settings; |   |
|   | 3. | Critically evaluate cross-disciplinary knowledge in decision making with creativity for innovation and change management contexts; |   |
|   | 4. | Exhibit accountability in autonomous and collaborative judgements and innovative strategic thinking in response to contemporary and future professional organisational change management challenges; |   |
|   | 5. | Formulate, implement and evaluate industry-specific investigations to resolve complex professional problems and inform decision-making; |   |
|   | 6. | Deliberate with specialist and non-specialist audiences including multi-disciplinary teams, diverse cultural communities and business and other professional organisations; |   |
|   | 7. | Exemplify initiative and inspirational leadership in a dynamic 21st century work environment, acting consistently, ethically and socially responsibly; |   |
|   | 8. | Evaluate and execute an evidence-based capstone experience to generate and evaluate complex ideas and concepts at abstract and practical levels to enhance the sustainability, viability and effectiveness of organisational change practices. |   |
What's a unit?
A unit or 'subject' is the actual class you'll attend in the process of completing a course.
Most courses have a mixture of compulsory 'core' units that you need to take and optional elective units that you can choose to take based on your area of interest, expertise or experience.
Credits
Each unit is worth a set amount of study credits based on the amount of time you study. Generally, 1 credit is equal to 1 hour of study per week.
Admission & pathways
Meeting the minimum admission requirements does not guarantee you entry into this course. Some courses receive more applications than the number of places available. In this situation we will also assess your education, work and other relevant experience.
If you do not meet the minimum requirements you may be eligible for one of our special admission programs. We also encourage you to explore our study pathways to help you reach your goal.
Find out more about how to apply for our courses, and our commitment to admissions transparency.
Entry requirements
Completion of an Australian Bachelor degree (or equivalent) in a similar discipline
AND
Five (5) years of approved work experience
OR
Completion of an Australian Graduate Certificate (or equivalent) in a similar discipline
AND
Five (5) years of approved work experience
OR
Applicants without an undergraduate qualification may be admitted to the Graduate Certificate (in the same discipline) based on approved work experience. Upon completion of the Graduate Certificate, graduates will be eligible for admission to this course with credit granted for completed units.
There are many ways you can start your education journey at VU. Pathways offer an easy transition between courses at different levels, so that you can start with a certificate and progress right through to postgraduate study.
Find out more about pathways and credits.
Use our credit calculator to find out how much credit you could get towards your course, based on your previous study.
If you have completed study with another university or institution and believe you are eligible to receive credit for skills and past study, you can apply for advanced standing.
Applications for advanced standing can be made after a discussion with your course chair or academic adviser.
Enquire now
Please fill out the form below, and we'll get back to you shortly.
Information marked with an asterisk "
*
" is required.
At Victoria University, we aim to display accurate and complete course information online. However, we are unable to guarantee that every course change is currently displayed. You may contact the University directly on +61 3 9919 6100 to confirm the most up-to-date course fees, pathways and credit transfer, recognition of prior learning, admission and enrolment procedures, examinations and services available to our students.