Green leaders
Australia is a world leader in the green building industry, with over 12 million square metres of Green Star certified or registered green building space.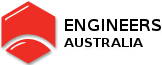 Accreditation
This program is accredited by Engineers Australia and graduates are eligible to apply for graduate membership.
Student and graduate members can gain access to EA Connect to find more work placement opportunities in the engineering industry.