Overview
Enhance your cookery skills and gain an understating of kitchen, operations, people and finance management for hospitality businesses.
This course combines practical culinary skills with theoretical management concepts, preparing you for leadership or supervisory positions in kitchen environments. You will develop skills in the following areas:
quality and stock control
menu planning and costing
food preparation and presentation
finance
human resources
leadership
people and operations management
sustainable work practices
food hygiene, food safety, OHS and first aid.
You will gain hands-on experience working with industry-standard equipment in the Footscray Nicholson hospitality training centre.
This simulated work environment includes:
four commercial kitchens with individual stainless steel workstations
two demonstration kitchens
a training bar
an award-winning training restaurant, VenU.
As a cookery student, you will be exposed to our high-profile industry partnerships including:
Lancemore Group's Mansion Hotel & Spa at Werribee Park
Crown Melbourne
TFE Hotels
Radisson on Flagstaff Gardens.
VU's Learning Hubs are welcoming spaces where you can improve your study and employability skills.
Our students can attend Learning Hubs at one of five VU campuses.
We offer maths, writing, careers and English-language advice, and show you effective ways to study and manage your time.
Our programs include:
workshops
drop-in sessions
peer mentoring
maths and writing resources
resume and career guidance.
We also have accessibility support services and counselling services available for all students.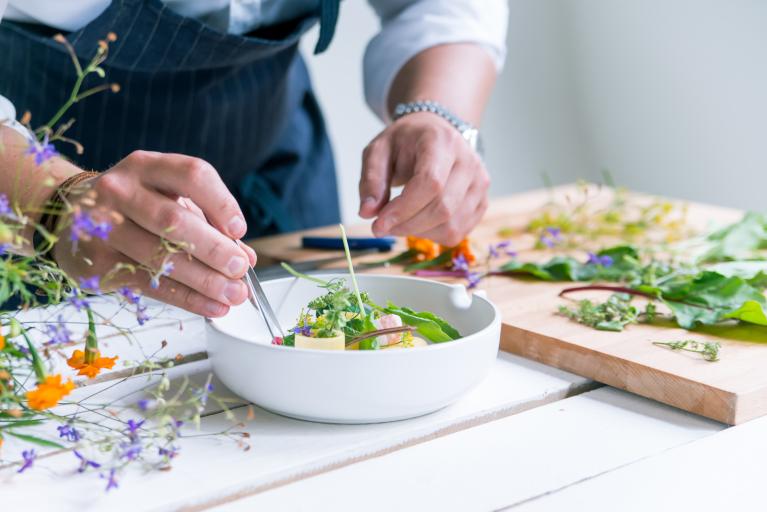 School for the Visitor Economy
This course is part of VU's School for the Visitor Economy - a new cross-university school providing qualified graduates to Victoria's rapidly expanding tourism and hospitality sectors.
Careers in cookery
This course provides recognition of the skills and knowledge required to find employment in hospitality establishments including:
restaurants
hotels
clubs
international commercial entities of 5-3 star standard. 
Possible job titles include:
head chef
sous chef
chef de partie
executive chef.
Course structure
To be awarded SIT40516 Certificate IV in Commercial Cookery qualification, a student must successfully complete a total of thirty-three (33) units of competency, comprising of:
twenty-six (26) core units;
seven (7) elective units which may be selected from within the SIT40516 Certificate IV in Commercial Cookery qualification, elsewhere in the SIT Tourism, Travel and Hospitality Training Package, or another other current training package or accredited course. 
The selection of electives must be guided by the job outcome sought, local industry requirements and the complexity of skills appropriate to the AQF level of this qualification as well as be approved by the Polytechnic.
For a list of unit offerings for international students, please contact the Polytechnic.
This qualification reflects the role of commercial cooks who have a supervisory or team leading role in the kitchen. They operate independently or with limited guidance from others and use discretion to solve non-routine problems.
What's a unit?
A unit or 'subject' is the actual class you'll attend in the process of completing a course.
Most courses have a mixture of compulsory 'core' units that you need to take and optional elective units that you can choose to take based on your area of interest, expertise or experience.
Fees & scholarships
The amount you pay for your course depends on whether you're offered a government subsidised place or a full-fee paying place.
If you enrol in a:
Government subsidised place, you'll pay a VET tuition fee and may be required to pay a Student Services and Amenities Fee and course materials contribution. This training is delivered with Victorian and Commonwealth Government funding.
full-fee paying place, you'll pay the full-fee tuition rate (which includes Student Services and Amenities Fee and any material fees).
Find out:
Scholarships & assistance
Apply for a scholarship to help with your study costs.
We can help with fee assistance and advice.
Admission & pathways
Meeting the minimum admission requirements does not guarantee you entry into this course.
Some courses receive more applications than the number of places available. In this situation we will also assess your education, work and other relevant experience.
If you do not meet the minimum requirements you may be eligible for one of our special admission programs. We also encourage you to explore our study pathways to help you reach your goal.
Entry requirements
Prior to enrolment, all applicants will be required to complete a literacy and numeracy assessment to assist with determining eligibility and to identify learning support needs.
There are many ways you can start your education journey at VU. Pathways offer an easy transition between courses at different levels, so that you can start with a certificate and progress right through to postgraduate study.
Find out more about pathways and credits.
You may be able to complete your qualification sooner through formal recognition of your existing skills. This is known as Recognition of Prior Learning (RPL).
To receive RPL, we assess your previous work, education and life experiences against recognised qualifications. Applications for RPL can be made prior to enrolling.
Call us on 1300 TAFE VP (1300 823 387) to discuss RPL options with the course manager.
How to apply
Prior to enrolment, all applicants will be required to complete a literacy and numeracy assessment to assist with determining eligibility and to identify learning support needs.
Enquire now
Please fill out the form below, and we'll get back to you shortly.
Information marked with an asterisk "
*
" is required.
Please note that if changes to this course occur, VU will notify students as soon as possible.
At Victoria University, we aim to display accurate and complete course information online. However, we are unable to guarantee that every course change is currently displayed. You may contact the University directly on +61 3 9919 6100 to confirm the most up-to-date course fees, pathways and credit transfer, recognition of prior learning, admission and enrolment procedures, examinations and services available to our students.