Overview
Further develop your English skills and confidence with a Certificate III in Spoken and Written English at Victoria University Polytechnic.
This intermediate course will help you to further develop skills for everyday simple transactional needs, as well as some social needs.  You'll learn to:
understand and participate in casual conversations and discussions
read news stories, formal documents and other written texts.
You'll also develop independent learning skills and build your confidence in contributing to the formal learning environment.
This course will help you achieve International Second Language Proficiency Rating (ISLPR) level of 1+ ('transactional proficiency') across speaking, listening, reading and writing.
Prepare for Free TAFE
VU Polytechnic is helping you get prepared in 2018 for Free TAFE 2019. Find out what courses you can do to improve your English skills and be ready to take advantage of Free TAFE. Contact us for more information or request a call back.
Victoria University Polytechnic, as part of Victoria University, believes in inclusivity, diversity and opportunity. Studying with us means you'll be learning in an environment that values community empowerment.
Victoria University received the highest rating of five stars for cultural diversity by the Good Universities Guide. Our students feel fortunate to learn in a setting that has such a rich representation of cultures.
VU also works to address refugee issues, tackle diversity and social inclusion issues and improve the health and social wellbeing of the region. We are proud of our varied cultural and community engagement projects with culturally and linguistically diverse (CALD) and Indigenous communities.
Our campus libraries have photocopying, computing and printing facilities as well as electronic and print resources.
You'll also have access to a rich collection of online resources at any time of the day or night, including:
databases
e-learning content for courses
student email
student software packages
social networking tools.
On campus, we make sure that all of our students have access to digital resources. We offer:
VU's Learning Hubs are welcoming spaces where you can improve your study and employability skills.
Our students can attend Learning Hubs at one of five VU campuses.
We offer maths, writing, careers and English-language advice, and show you effective ways to study and manage your time.
Our programs include:
workshops
drop-in sessions
peer mentoring
maths and writing resources
resume and career guidance.
We also have accessibility support services and counselling services available for all students.
Need some advice?
Request a call back from one of our experienced Victoria University Polytechnic course advisers to get your questions answered.
Request a call back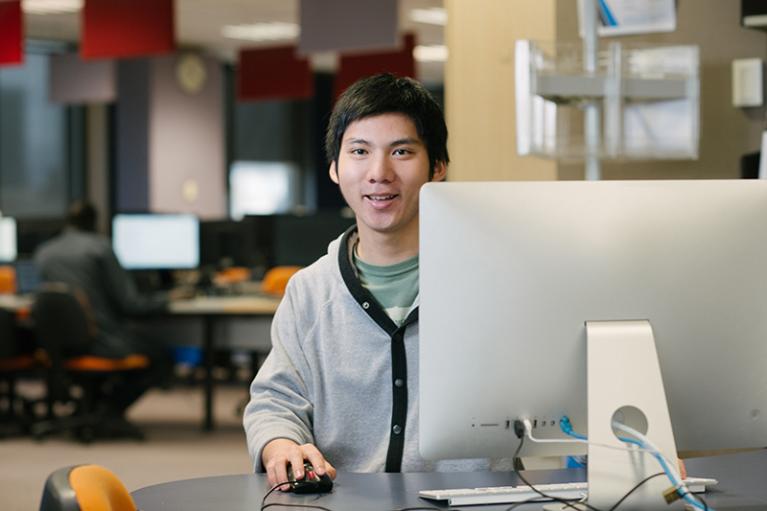 Further develop your English skills and build your confidence at Victoria University Polytechnic.
Careers
It is widely recognised that the more education you have completed, the more opportunities you'll have in the job market. Studying English at Victoria University Polytechnic can help you get your foot in the door for your future studies and your dream career.
This course will improve your spoken and written English skills, as well as improve your confidence. These skills will create more options for your career path in the future. Studying this course will help you access further certificates in English, further TAFE studies or other training or work opportunities.
Course structure
To be awarded the 10364NAT Certificate III in Spoken and Written English, a student must successfully complete a total of nine (9) modules, consisting of:
one (1) compulsory module - CSWE III Module SWELRN301A Advanced learning strategies, and;
eight (8) elective modules with at least two (2) modules from the spoken text electives and at least two (2) modules from the written text electives.
Compulsory module
Elective modules
Spoken Text Electives:
Written Text Electives:
Mixed Text Elective:
Numeracy Skills Elective:
There are no prerequisite units for 10364NAT Certificate III in Spoken and Written English
The Course in Preliminary Spoken and Written English and the Certificates I-IV in Spoken and Written English provide a general education framework for learners to develop English language and literacy skills and optional numeracy skills to undertake further education and training, seek and maintain employment, and participate in the general community. The curriculum is used widely throughout Australia in the Adult Migrant English Program (AMEP), the Adult and Community Education (ACE) sector, TAFE colleges, universities and private providers (p3 The Curriculum Framework, May 2013).
Certificate III in Spoken and Written English is an Intermediate course for learners who have developed a survival level of English, literacy or numeracy skills and who have had some formal or informal exposure to English. Outcomes for Certificate III in Spoken and Written English are as follows:
learning strategies to study in formal learning environments;
comprehending and participating in casual spoken exchanges;
comprehending and negotiating complex exchanges;
participating in interviews;
comprehending and conducting presentations;
comprehending and participating in discussions;
composing formal correspondence;
completing formatted texts;
comprehending and composing narrative texts;
comprehending and composing information texts;
comprehending and composing discussions and expositions;
comprehending and composing job seeking texts;
comprehending news stories and advertisements;
comprehending and composing visual texts;
comprehending and giving complex instructions;
language for job seeking;
comprehending and performing multi-step mathematical operations, and;
applying and interpreting mathematical information.
In the process of developing the above language, literacy and numeracy skills, learners are able to demonstrate competence in the following Certificate III AQF characteristics:
select, adapt and transfer theoretical knowledge and skills to new contexts;
apply solutions to a variety of predictable problems;
interpret available information using discretion and judgement;
take responsibility for own learning, and;
collaborate with others in groups.
What's a unit?
A unit or 'subject' is the actual class you'll attend in the process of completing a course.
Most courses have a mixture of compulsory 'core' units that you need to take and optional elective units that you can choose to take based on your area of interest, expertise or experience.
Fees & scholarships
Fee type: VET
The amount you pay for your course depends on whether you're offered a government subsidised place or a full-fee paying place.
If you enrol in a:
Government subsidised place, you'll pay a VET tuition fee and may be required to pay a Student Services and Amenities Fee and course materials contribution.
full-fee paying place, you'll pay the full-fee tuition rate (which includes Student Services and Amenities Fee and any material fees).
Find out:
Scholarships & assistance
Apply for a scholarship to help with your study costs.
We can help with fee assistance and advice.
Admission & pathways
Meeting the minimum admission requirements does not guarantee you entry into this course.
Some courses receive more applications than the number of places available. In this situation we will also assess your education, work and other relevant experience.
If you do not meet the minimum requirements you may be eligible for one of our special admission programs. We also encourage you to explore our study pathways to help you reach your goal.
Entry requirements
Applicants must have an entry level of 1+ against the International Second Language Proficiency Rating (ISLPR) or language, literacy and numeracy skills that align to Level 3 of the Australian Core Skills Framework (ACSF).
Prior to enrolment, all applicants will be required to complete a speaking, listening, literacy and numeracy assessment.
There are many ways you can start your education journey at VU. Pathways offer an easy transition between courses at different levels, so that you can start with a certificate and progress right through to postgraduate study.
Find out more about pathways and credits.
You may be able to complete your qualification sooner through formal recognition of your existing skills. This is known as Recognition of Prior Learning (RPL).
To receive RPL, we assess your previous work, education and life experiences against recognised qualifications. Applications for RPL can be made prior to enrolling.
Call us on 1300 TAFE VP (1300 823 387) to discuss RPL options with the course manager.
How to apply
Prior to enrolment, all applicants will be required to complete a literacy and numeracy assessment to assist with determining eligibility and to identify learning support needs.
Before you apply
Before applying, you should consider whether you also want to apply for:
Special admission programs: Depending on your life circumstances you may be eligible for special consideration of your application.
Advanced standing: If you have significant experience or studies elsewhere you may be eligible for credit for some units of your course and not have to undertake them.
Apply direct to VU
Apply direct to VU using our admission centre submit applications for one or more courses, track and save your progress and upload additional information.
Apply direct to VU
Already a VU student?
If you are already a VU student, apply direct to VU using our Admissions centre to transfer into this course. Remember it's best to be accepted into your new course before withdrawing from your current one.
After you apply
It's important to check for emails from us (which may go to your spam/junk folder).
Complete any requests for information by the given dates, otherwise your application may not be considered
Enquire now
Please fill out the form below, and we'll get back to you shortly.

Information marked with an asterisk

*

is required.
Please note that if changes to this course occur, VU will notify students as soon as possible.
At Victoria University, we aim to display accurate and complete course information online. However, we are unable to guarantee that every course change is currently displayed. You may contact the University directly on +61 3 9919 6100 to confirm the most up-to-date course fees, pathways and credit transfer, recognition of prior learning, admission and enrolment procedures, examinations and services available to our students.