Overview
Gain specialist building skills for a career in the construction industry with a Certificate III in Joinery CPC31920 at Victoria University Polytechnic.
As an apprentice joiner, this trade certificate will provide you with a theoretical and practical understanding of the construction and installation of wooden structures, manufacturing and machining skills of a variety of joinery products and materials.
You will develop essential skills and knowledge in:
manufacturing and assembling stairs
manufacturing and assembling of windows and doorframes
manufacturing and assembling of joinery components
demolition of minor building structures
setouts, levelling technical skills
reading and interpreting plans and specifications
working safely and sustainably.
You will also learn how to safely use and maintain tools and equipment, including:
static machines
power tools
automatic, line and laser levels
compressors and generators
air and battery operated tools
gas and powder activated tools.
As this an apprenticeship course, you must be employed as a joinery apprentice.
You'll learn in our multi-million dollar trades facilities at our Sunshine Campus.
Our 'Construction Futures' hub is a sustainable training facility sustainable with a 6 Star Green rating. It provides modern high-tech labs and dynamic workshops including:
concrete laboratory
survey laboratory
engine laboratory
soldering/construction laboratories
power systems laboratory
computer workstations with simulation and modelling software.
Everything you learn at Victoria University Polytechnic has direct links to the real world. You'll learn practical skills on special purpose machinery at our Construction Hub, giving you the chance to test out your theoretical knowledge.
You'll become skilled at using tools and equipment such as static machines, generators and power tools. Learning a trade with us means you'll get the hands-on learning to be job-ready when you graduate.
You'll learn from teachers who have valuable industry contacts and the latest industry-standard skills. You'll also develop links with industry and professional experience through:
site visits
industry projects
live work
industry simulation.
VU's Learning Hubs are welcoming spaces where you can improve your study and employability skills.
Our students can attend Learning Hubs at one of five VU campuses.
We offer maths, writing, careers and English-language advice, and show you effective ways to study and manage your time.
Our programs include:
workshops
drop-in sessions
peer mentoring
maths and writing resources
resume and career guidance.
We also have accessibility support services and counselling services available for all students.
Need some advice?
Request a call back from one of our experienced Victoria University Polytechnic course advisers to get your questions answered.
Request a call back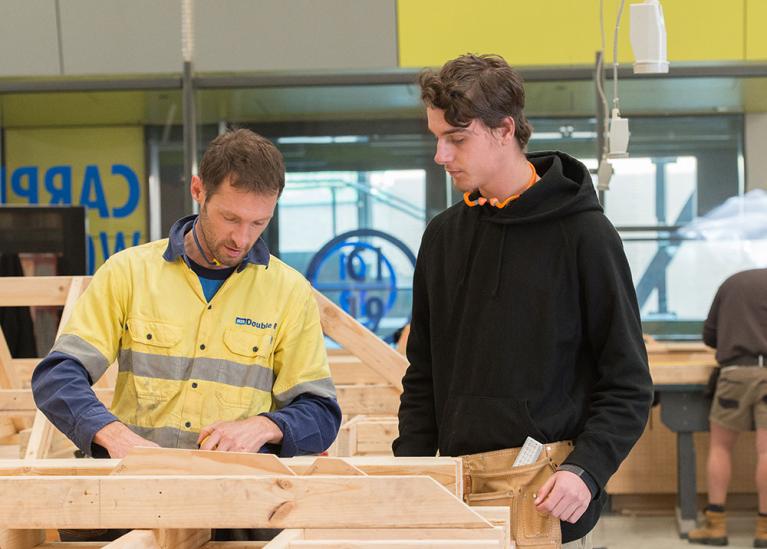 Careers in joinery
The building and construction industry is one of the largest industries for employment within Australia. A trade certificate from Victoria University Polytechnic can help you get your foot in the door.
This qualification will enable you to find employment as a joiner or stair builder on small to large-scale building projects, on both domestic and commercial building sites.
Job prospects are good; check employment predictions for joiners at the government job-data site, Labour Market Insights.
Course structure
The course structure comprises the following core and elective units. These electives have been selected based on industry needs, graduate pathways and/or student and teacher feedback.
To be awarded CPC31920 Certificate III in Joinery, a student must complete a total of twenty-nine (29) units of competency, consisting of:
*eighteen (18) core units, and;
*eleven (11) elective units, of which:
a minimum of five units must be selected from Group A
the remaining units can be selected from any group or any current training package or accredited course, as long as they contribute to a valid, industry-supported vocational outcome and maintain the AQF level of this qualification.
VU Polytechnic delivers the electives listed in the 'course structure and units' below. These electives have been selected based on industry needs, graduate pathways and/or student and teacher feedback. Alternative suitable electives are only available via Recognition of Prior Learning (RPL) and Credit Transfer (CT).
Core units
Unit code

CPCCCA2002

Unit code

CPCCCA2011

Unit code

CPCCCA3010

Unit code

CPCCCM2006

Unit code

CPCCCM2012

Unit code

CPCCCM3004

Unit code

CPCCJN2003

Unit code

CPCCJN3002

Unit code

CPCCJN3004

Unit code

CPCCJN3100

Unit code

CPCCJS3002

Unit code

CPCCOM1012

Unit code

CPCCOM1013

Unit code

CPCCOM1014

Unit code

CPCCOM1015

Unit code

CPCCOM2001

Unit code

CPCCOM3001

Unit code

MSFFM3011
Elective units
Group A - Specialist Electives
Unit code

CPCCCA3012

Unit code

CPCCCA3024

Unit code

CPCCJN3003

Unit code

CPCCJS3003

Unit code

CPCCJS3011
Group B - General Electives 
Unit code

CPCCCA3001

Unit code

CPCCCA3004

Unit code

CPCCCA3014

Unit code

CPCCCA3026

Unit code

CPCCJN2001

Unit code

CPCCWHS2001
Recognition of Prior Learning and/or Credit Transfers:
Previous completion of units at the VU Polytechnic or any other Registered Training Organisation and/or previous attainment of skills and knowledge may be credited towards this course. Units must satisfy the completion rules of the qualification and be assessed as appropriate by the Polytechnic.
This qualification provides a trade outcome in joinery covering work for residential and commercial applications. It is suitable for an Australian apprenticeship pathway.
Fees & scholarships
Fee type for this course: VET
Fee type definitions
The amount you pay for your course depends on whether you're offered a government subsidised place or a full fee-paying place.
Students who enrol in a:
government subsidised place pay subsidised tuition fees (the government contributes the rest), and may be required to pay a Student Services and Amenities Fee along with any material fees
full fee-paying place pay the full fee tuition rate (which includes Student Services and Amenities Fee and any material fees).
Calculate your VET course fees.
Find out more about:
Scholarships & assistance
Apply for a scholarship to help with your study costs.
We can help with fee assistance and advice.
Admission & pathways
Meeting the minimum admission requirements does not guarantee you entry into this course. Some courses receive more applications than the number of places available. In this situation we will also assess your education, work and other relevant experience.
If you do not meet the minimum requirements you may be eligible for one of our special admission programs.
Find out more about how to apply for our courses, and our commitment to admissions transparency.
Entry requirements
As part of the application process, applicants must complete a Pre-training Review (PTR) and undertake a literacy and numeracy (LN) assessment to determine suitability for admission.
Local admission requirements for applicants:
* must be employed as an apprentice with a training contract with their employer * must have an active Epsilon number prior to commencing the course
There are many ways you can start your education journey at VU. Pathways offer an easy transition between courses at different levels, so that you can start with a certificate and progress right through to postgraduate study.
Find out more about pathways and credits.
Use our credit calculator to find out how much credit you could get towards your course, based on your previous study.
You may be able to complete your qualification sooner through formal recognition of your existing skills. This is known as Recognition of Prior Learning (RPL).
To receive RPL, we assess your previous work, education and life experiences against recognised qualifications. Applications for RPL can be made prior to enrolling.
Call us on 1300 TAFE VP (1300 823 387) to discuss RPL options with the course manager.
How to apply
Prior to enrolment, all applicants will be required to complete a literacy and numeracy assessment to assist with determining eligibility and to identify learning support needs.
Before you apply
Before starting your application, please read through the step-by-step VU Polytechnic application process to make sure you have all the necessary documents and information ready to successfully complete your application.
Before applying, you should consider whether you also want to apply for:
Apply direct to VU
Apply direct to VU using our admission centre, submit applications for one or more courses, track and save your progress and upload additional information.
---
Already a VU student?
If you are already a VU student, apply direct to VU using our Admissions centre to transfer into this course. Remember it's best to be accepted into your new course before withdrawing from your current one.
After you apply
It's important to check for emails from us (which may go to your spam/junk folder).
Complete any requests for information by the given dates, otherwise your application may not be considered
Enquire now – TAFE
Please fill out the form below, and we'll get back to you shortly.
Information marked with an asterisk "
*
" is required.
Please note that if changes to this course occur, VU will notify students as soon as possible.
At Victoria University, we aim to display accurate and complete course information online. However, we are unable to guarantee that every course change is currently displayed. You may contact the University directly on +61 3 9919 6100 to confirm the most up-to-date course fees, pathways and credit transfer, recognition of prior learning, admission and enrolment procedures, examinations and services available to our students.