Overview
Turn your passion for working with children into a career with a Certificate III in Early Childhood Education and Care at Victoria University Polytechnic.
This course covers the fundamentals of childhood development and caring for children. You'll gain the skills and expertise to provide quality education for children in a range of environments.
Through classroom learning and two practical placements in daycare settings, you'll learn to plan activities focused on children's development.
Completion of this course is the minimum requirement to work in the early childhood education sector. You will develop skills in:
effective interaction and communication with children
appropriate care for babies, toddlers and children
nutrition
first aid, health and safety
working legally and ethically.
Everything you learn at Victoria University Polytechnic has direct links to the real world. You will develop practical skills through our supportive workplace learning model and be job-ready when you graduate.
Our practical children's services lab, located at Werribee Campus, will provide you the opportunity for hands-on learning in a simulated early childhood environment. You'll consolidate your skills during two practical placements in daycare settings, so you can put theory into practice.
Our partner network includes schools and community and government organisations, particularly in Melbourne's north and west. Victoria University Polytechnic students are known for their capability in the workplace, and placements can lead to employment.
You'll learn from teachers who have valuable industry contacts and the latest industry-standard skills and knowledge. You'll also develop links with industry and professional experience through:
placements
guest speaker presentations
scenario-based learning and assessments.
Victoria University Polytechnic is a supportive place to study. We have a range of academic support programs that can help you if you're struggling with your studies.
We can help you with your assignments and assessment tasks, maths, writing skills and English language support, as well as showing you effective ways to study and manage your time and preparation. Our study support programs include:
workshops and study groups
student mentors and peer learning
maths and writing resources.
We also have disability support services and counselling services available to all students.
Our campus libraries have photocopying, computing and printing facilities as well as electronic and print resources.
You'll also have access to a rich collection of online resources at any time of the day or night, including:
databases
e-learning content for courses
student email
student software packages
social networking tools.
On campus, we make sure that all of our students have access to digital resources. We offer:
TAFE resources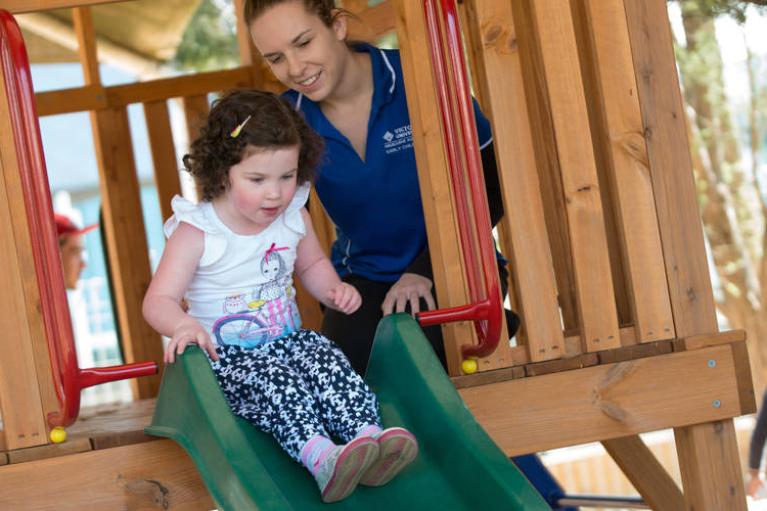 Our early childhood education students gain practical experience in childcare centres.
Careers in early childhood education
This industry-focused certificate will prepare you for a rewarding career in children's services. Our graduates find employment in a variety of education and care settings such as:
homes
childcare centres
community services
education programs.
Potential job titles include:
early childhood educator
outside school hours care assistant
playgroup supervisor
recreation assistant
family day care worker
nanny
childhood educator/assistant.
Employment for childcare workers and out of school hours care workers is expected to grow strongly over the next five years (JobOutlook). Demand for childcare professionals in Melbourne's west is set to remain high, with large population growth in the area.
You may choose to undertake further study, going on to our Diploma of Early Childhood Education and Care.
Course structure
To be awarded CHC30113 Certificate III in Early Childhood Education and Care, a student must successfully complete a total of eighteen (18) units of competency, comprising of:
fifteen (15) core units, and;

three (3) elective units of which:

at least one (1) unit must be selected from the CHC30113 Certificate III in Early Childhood Education and Care qualification, and;

 

up to two (2) units may be selected from any endorsed training package or accredited courses – these units must be relevant to the work outcome.
All electives chosen must support the overall integrity of the AQF level of this qualification and contribute to a valid, industry-supported vocational outcome as well as be approved by the Polytechnic.
VU Polytechnic delivers the electives listed in the 'course structure and units' below. These electives have been selected based on industry needs, graduate pathways and/or student and teacher feedback. Alternative suitable electives are only available via Recognition of Prior Learning (RPL) and Credit Transfer (CT).
Recognition of Prior Learning and/or Credit Transfers
Previous completion of units at the Polytechnic or any other Registered Training Organisation and/or previous attainment of skills and knowledge may be credited towards this course. Units must satisfy the completion rules of the qualification and be assessed as appropriate by the Polytechnic.
This qualification reflects the role of workers in a range of early childhood educational settings who work within the requirements of the Education and Care Services National Regulations and the National Quality Standard. They support the implementation of an approved learning framework, and support children's wellbeing, learning and development. Depending on the setting, educators may work under direct supervision or autonomously.  Under the Education and Care Services National Law (2011) the Australian Children's Education and Care Quality Authority (ACECQA) publishes lists of approved early childhood education and care qualifications and information regarding regulatory requirements here: www.acecqa.gov.au
Fees & scholarships
Fee type definitions
The amount you pay for your course depends on whether you're offered a government subsidised place or a full fee-paying place.
Students who enrol in a:
government subsidised place pay subsidised tuition fees (the government contributes the rest), and may be required to pay a Student Services and Amenities Fee along with any material fees
full fee-paying place pay the full fee tuition rate (which includes Student Services and Amenities Fee and any material fees).
Calculate your VET course fees.
Find out more about:
Scholarships & assistance
Apply for a scholarship to help with your study costs.
We can help with fee assistance and advice.
Admission & pathways
Meeting the minimum admission requirements does not guarantee you entry into this course. Some courses receive more applications than the number of places available. In this situation we will also assess your education, work and other relevant experience.
If you do not meet the minimum requirements you may be eligible for one of our special admission programs.
Find out more about how to apply for our courses, and our commitment to admissions transparency.
Entry requirements
Students will be required to demonstrate they have the capacity to work with children and families in the highly demanding field of early childhood as set out by the Australian Children's Education and Care Quality Authority (ACECQA) and the Education and Care Services National Regulations by attending an interview. This may be conducted individually or as a group, at the discretion of the Polytechnic.



Further information can be found: https://www.acecqa.gov.au/



Prior to enrolment, all applicants will be required to complete a literacy and numeracy assessment to assist with determining eligibility and to identify learning support needs.



For employment and practical placement purposes, this vocational sector typically requires a current and satisfactory Police Record Check and Working with Children Check. Failure to provide the required documents in the timeframe specified by the Course Coordinator, means you will be unable to undertake practical placement in a workplace and therefore not eligible to progress in this course.



The following are suggested sites you could visit to obtain these checks: - Police Record Check - http://www.police.vic.gov.au/content.asp?Document_ID=274 - Working with Children Check - http://www.workingwithchildren.vic.gov.au/
There are many ways you can start your education journey at VU. Pathways offer an easy transition between courses at different levels, so that you can start with a certificate and progress right through to postgraduate study.
Find out more about pathways and credits.
You may be able to complete your qualification sooner through formal recognition of your existing skills. This is known as Recognition of Prior Learning (RPL).
To receive RPL, we assess your previous work, education and life experiences against recognised qualifications. Applications for RPL can be made prior to enrolling.
Call us on 1300 TAFE VP (1300 823 387) to discuss RPL options with the course manager.
How to apply
Prior to enrolment, all applicants will be required to complete a literacy and numeracy assessment to assist with determining eligibility and to identify learning support needs.
Enquire now – TAFE
Please fill out the form below, and we'll get back to you shortly.
Information marked with an asterisk "
*
" is required.
Please note that if changes to this course occur, VU will notify students as soon as possible.
At Victoria University, we aim to display accurate and complete course information online. However, we are unable to guarantee that every course change is currently displayed. You may contact the University directly on +61 3 9919 6100 to confirm the most up-to-date course fees, pathways and credit transfer, recognition of prior learning, admission and enrolment procedures, examinations and services available to our students.