Overview
Gain the skills necessary to work on major infrastructure projects in the fast growing civil construction industry.
Developed in partnership with industry, the Certificate III in Civil Construction Plant Operations RII30815 at VU Polytechnic will teach you the in-demand skills to pursue your career as a plant operator.
You will develop the skills and knowledge to:
plan and organise work
carry out measurements and calculations
identify, locate and protect underground services
read and interpret plans and specifications
carry out manual excavation
support plant operations
carry out basic levelling
communicate in the workplace
handle resources and infrastructure materials and safely dispose of non-toxic materials
use hand and power tools
operate a small plant and equipment
work safely and follow WHS policies and procedures
drain and dewater civil construction sites
usage of various civil construction machinery.
Free TAFE - apply now
Eligible students currently won't pay tuition fees for this course.
Free TAFE courses align with skills and jobs that are in high demand from Victorian employers.
Find out more about Free TAFE.
You will have access to state-of-the-art simulators and machines at our Werribee Campus (Werribee East). As part of your course, you will undertake 150+ hours of operating machinery, including our eight-tonne wheeled front end loader, in a controlled environment. Learning with us means you'll get the hands-on training to operate equipment safely and be job-ready when you graduate.
Industry partners are also co-located at Werribee East, allowing for closer industry contact during your training.
VU's Learning Hubs are welcoming spaces where you can improve your study and employability skills.
Our students can attend Learning Hubs at one of five VU campuses.
We offer maths, writing, careers and English-language advice, and show you effective ways to study and manage your time.
Our programs include:
workshops
drop-in sessions
peer mentoring
maths and writing resources
resume and career guidance.
We also have accessibility support services and counselling services available for all students.
Need some advice?
Request a call back from one of our experienced Victoria University Polytechnic course advisers to get your questions answered.
Request a call back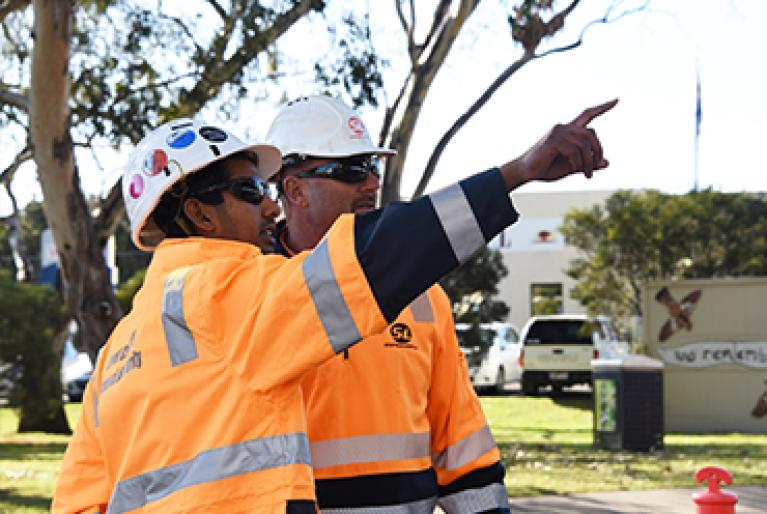 The Certificate III in Civil Construction Plant Operations RII30815 equips you with the essential skills to work in the booming civil construction industry.
Careers in civil construction
Possible career opportunities after the completion of this course include:
asphalter/pavement layer
bridge construction worker
civil construction plant operator
civil foundations worker
construction rescue worker
construction worker (civil construction general)
construction worker (site maintenance)
mine rescue worker
mobile plant operator
pipe layer
road construction worker
road marker
timber bridge constructor
traffic controller
trenchless technology civil foundation worker
tunnel constructor or builder.
Course structure
The course structure comprises the following core and elective units. These electives have been selected based on industry needs, graduate pathways and/or student and teacher feedback.
To be awarded the RII30815 Certificate III in Civil Construction Plant Operations, a student must successfully complete a total of nineteen (19) units of competency, comprising of:
fourteen (14) core units, and;
five (5) elective units, of which:
one (1) unit must be selected from Group A;
two (2) units must be selected from Group B;
no more than two (2) units may be selected from Group C, and;
no more than one (1) unit may be chosen from elsewhere within this training package, or from another endorsed training package, or from an accredited course.
OR
two (2) units must be selected from Group A;
three (3) units may be selected from Group A, B or C;
no more than one (1) unit may be selected from elsewhere within this training package, or from another endorsed training package, or from an accredited course.
All elective units selected from outside this qualification must reflect current occupational and learning outcomes of this AQF qualification level as well as be approved by the Polytechnic.
VU Polytechnic delivers the electives listed in the 'course structure and units' below. These electives have been selected based on industry needs, graduate pathways and/or student and teacher feedback. Alternative suitable electives are only available via Recognition of Prior Learning (RPL) and Credit Transfer (CT).
Recognition of Prior Learning and/or Credit Transfers
Previous completion of units at the Polytechnic or any other Registered Training Organisation and/or previous attainment of skills and knowledge may be credited towards this course. Units must satisfy the completion rules of the qualification and be assessed as appropriate by the Polytechnic.
This qualification reflects the role of a skilled operator working with civil construction plant, who applies a broad range of skills in a varied work context, using some discretion and judgement and relevant theoretical knowledge. The individual may provide theoretical advice and support a team.
Licensing, legislative, regulatory and certification requirements that apply to this qualification can vary between states, territories, and industry sectors. Relevant information must be sourced prior to application of the qualification.
Fees & scholarships
Fee type for this course: VET
Fee type definitions
The amount you pay for your course depends on whether you're offered a government subsidised place or a full fee-paying place.
Students who enrol in a:
government subsidised place pay subsidised tuition fees (the government contributes the rest), and may be required to pay a Student Services and Amenities Fee along with any material fees
full fee-paying place pay the full fee tuition rate (which includes Student Services and Amenities Fee and any material fees).
Calculate your VET course fees.
Find out more about:
Scholarships & assistance
Apply for a scholarship to help with your study costs.
We can help with fee assistance and advice.
Admission & pathways
Meeting the minimum admission requirements does not guarantee you entry into this course. Some courses receive more applications than the number of places available. In this situation we will also assess your education, work and other relevant experience.
If you do not meet the minimum requirements you may be eligible for one of our special admission programs.
Find out more about how to apply for our courses, and our commitment to admissions transparency.
Entry requirements
As part of the application process, applicants must complete a Pre-training Review (PTR) and undertake a literacy and numeracy (LN) assessment to determine suitability for admission and to identify support needs.
There are many ways you can start your education journey at VU. Pathways offer an easy transition between courses at different levels, so that you can start with a certificate and progress right through to postgraduate study.
Find out more about pathways and credits.
You may be able to complete your qualification sooner through formal recognition of your existing skills. This is known as Recognition of Prior Learning (RPL).
To receive RPL, we assess your previous work, education and life experiences against recognised qualifications. Applications for RPL can be made prior to enrolling.
Call us on 1300 TAFE VP (1300 823 387) to discuss RPL options with the course manager.
How to apply
Prior to enrolment, all applicants will be required to complete a literacy and numeracy assessment to assist with determining eligibility and to identify learning support needs.
Before you apply
Before starting your application, please read through the step-by-step VU Polytechnic application process to make sure you have all the necessary documents and information ready to successfully complete your application.
Before applying, you should consider whether you also want to apply for:
Apply direct to VU
Apply direct to VU using our admission centre, submit applications for one or more courses, track and save your progress and upload additional information.
---
Already a VU student?
If you are already a VU student, apply direct to VU using our Admissions centre to transfer into this course. Remember it's best to be accepted into your new course before withdrawing from your current one.
After you apply
It's important to check for emails from us (which may go to your spam/junk folder).
Complete any requests for information by the given dates, otherwise your application may not be considered
Enquire now – TAFE
Please fill out the form below, and we'll get back to you shortly.
Information marked with an asterisk "
*
" is required.
Please note that if changes to this course occur, VU will notify students as soon as possible.
At Victoria University, we aim to display accurate and complete course information online. However, we are unable to guarantee that every course change is currently displayed. You may contact the University directly on +61 3 9919 6100 to confirm the most up-to-date course fees, pathways and credit transfer, recognition of prior learning, admission and enrolment procedures, examinations and services available to our students.