Overview
Study towards a rewarding and holistic healthcare career with VU's leading osteopathy program.
Our Bachelor of Science (Osteopathy), plus Master of Health Science (Osteopathy) lead to professional registration as an osteopath.
Osteopathic treatments include:
soft-tissue techniques
joint manipulation
joint mobilisation
exercise rehabilitation
general healthcare advice.
To prepare you for work in health care, you'll study:
anatomy
osteopathic principles and techniques
physiology
pathology
population health
evidence-based practice.
You'll gain work experience through extensive clinical practice. This perfect mix of scientific study and hands-on practice will have you confident and job-ready following our masters.
VU offers one of only three accredited programs in Australia.
VU's hands-on learning approach and extensive clinical placements are held in high regard by industry.
Treating patients at our Osteopathy Clinics at City Flinders and Werribee campuses, as well as external community clinical engagements, ensures you have a diverse clinical experience.
Our osteopathy teaching clinics operates 47 weeks of the year. As part of our masters program, you'll attend clinical sessions on a rotational basis. You'll gain real-world experience working with paying patients.
These clinics also run outside of semester hours, to maintain a public service and provide continuity of patient care.
When you study osteopathy at VU, you'll be part of a bigger Health and Biomedicine college. This college supports its students with international industry contacts, world-class research centres, and a Dean's lecture series by leaders in the health profession.
Osteopathy students study at our City Flinders Lane campus. The convenient location makes studying easier, and the surrounding laneways, cafes and restaurants add to its appeal.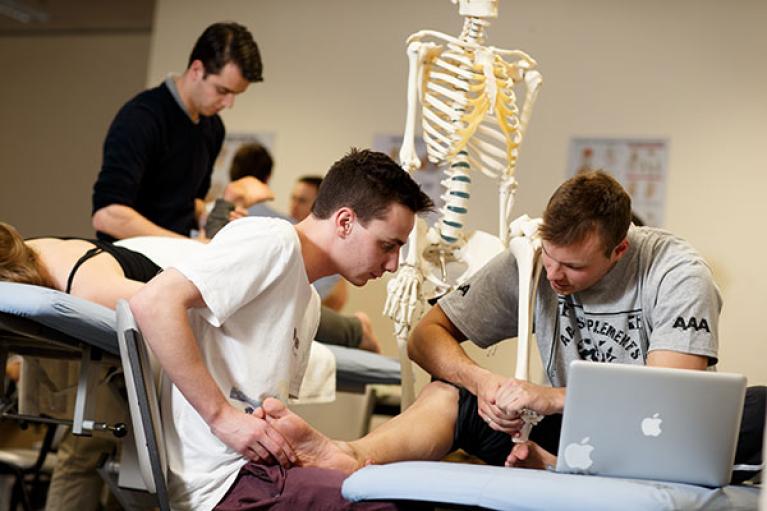 The Bachelor of Science (Osteopathy) offers a mix of scientific study and hands-on practice.
Careers in osteopathy
You'll be qualified for a career as a practising osteopath after completing both this degree and our Master of Health Science (Osteopathy).
Osteopaths can work in a variety of healthcare settings:
private practice clinics
hospitals
maternal health centres
community organisations.
Become a registered osteopath
With our dual-qualification in osteopathy, including the Master of Health Science (Osteopathy), you can gain the following registrations and memberships:
registration with the Osteopathy Board of Australia
registration as an osteopath in all other Australian states and in New Zealand
membership with Osteopathy Australia.
For further information about registration requirements, visit the Australian Health Practitioner Regulation Agency.
To register as an osteopath, you will need to complete the double-degree program:
Bachelor of Science (Osteopathy) – HBSO
Master of Health Science (Osteopathy) – HMHO (commencing 2019)
Please note: Students who enrolled in the Bachelor of Science (Clinical Sciences) – HBOP before 2016 will need to complete the Master of Health Science (Osteopathy) – HMOP. HMOP will be superseded by the new Master of Health Science (Osteopathy) – HMHO from 2019
Salaries
The average salary of osteopaths in Australia is around A$70,000 (PayScale).
Course structure
What's a unit?
A unit or 'subject' is the actual class you'll attend in the process of completing a course.
Most courses have a mixture of compulsory 'core' units that you need to take, and optional \'elective\' units that you can choose to take based on your area of interest, expertise or experience.
Credits
Each unit is worth a set amount of study credits based on the amount of time you study. Generally, 1 credit is equal to 1 hour of study per week.
Fees & scholarships
Fee type: Commonwealth Supported Place (CSP)
The amount you pay for your course depends on whether you're a Commonwealth supported student or full-fee paying.
If you enrol in a:
To calculate the total cost of your course:
Select which units you'd like to study.
Look up the individual unit costs in the higher education unit of study fees list.
Add up the relevant amounts.
Scholarships & assistance
Apply for a scholarship to help with your study costs.
We can help with fee assistance and advice.
Admission & pathways
Meeting the minimum admission requirements does not guarantee you entry into this course.
Some courses receive more applications than the number of places available. In this situation we will also assess your education, work and other relevant experience.
If you do not meet the minimum requirements you may be eligible for one of our special admission programs. We also encourage you to explore our study pathways to help you reach your goal.
Year 12: Units 3 and 4: a study score of at least 25 in English (EAL) or at least 20 in any other English; AND a study score of at least 20 in one of Biology or Chemistry; AND a study score of at least 20 in one of any Mathematics or Physics.
Mature: Academic record including GPA. Year 12 prerequisites also apply for non-school leavers.
There are many ways you can start your education journey at VU. Pathways offer an easy transition between courses at different levels, so that you can start with a certificate and progress right through to postgraduate study.
If you have completed any of the following course(s), you will be guaranteed a place in this degree. In some cases you may receive credit for your previous study, reducing the time it takes to complete your course.
You will be guaranteed entry only.
You will be guaranteed entry only.
Find out more about pathways and credits.
If you have completed study with another university or institution and believe you are eligible to receive credit for skills and past study, you can apply for advanced standing.
Applications for advanced standing can be made after a discussion with your course coordinator or academic adviser.
How to apply
Applications for this course are not being taken at this time.
Browse our other Osteopathy courses or send us an enquiry to be notified of updates relating to this course.
Enquire now
Please fill out the form below, and we'll get back to you shortly.

Information marked with an asterisk

*

is required.
At Victoria University, we aim to display accurate and complete course information online. However, we are unable to guarantee that every course change is currently displayed. You may contact the University directly on +61 3 9919 6100 to confirm the most up-to-date course fees, pathways and credit transfer, recognition of prior learning, admission and enrolment procedures, examinations and services available to our students.