We are committed to an indigenous research agenda of pursuing social justice outcomes through research within a framework of decolonisation.
We work to enhance Aboriginal and Torres Strait Islander communities, wellbeing and empowerment through research. Specific areas of research include:
self-determination
displacement and identity
international activist connections
Aboriginal and Torres Strait Islander knowledge and climate change.
Publications
Moondani Balluk has a large output of academic research and creative works. This includes peer-reviewed journal articles, creative non-fiction and fiction, theatre and exhibitions. Our research covers the role of Aboriginal and Torres Strait Islander people, cultures and knowledges in areas such as:
climate change and the environment
human rights, sovereignty and politics
social studies
Australian Aboriginal and Torres Strait Islander history
View the publications listing for Moondani Balluk.
Aboriginal History Archive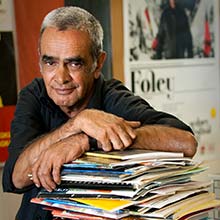 The Aboriginal History Archive is built around the Foley Collection.
This is an extensive archive of almost 500,000 items, collected over the past 45 years by Aboriginal activist/academic and Moondani Balluk researcher Professor Gary Foley.
The Archive documents over half a century of Aboriginal activism in Australia's contemporary political history and adds the Aboriginal voices that are central to this complex era. Documented issues include the emergence, development and rise of the Aboriginal Black Power, land rights and self-determination movements in Australia.
The Archive includes:
correspondence
manuscripts
press clippings
photo collections
video recordings
radio programs
campaign ephemera and significant artefacts
collections of other key figures.
Research with Aboriginal & TSI people
Victoria University research involving Aboriginal and Torres Strait Islander people must gain approval by the University's Human Research Ethics Committee (HREC). The proposed research will only be approved if it complies with these guidelines.
Researchers should engage with Moondani Balluk before submitting an application to the HREC.
Research grants, fellowships & scholarships
Moondani Balluk has been granted research funds for a variety of projects. We also offer postgraduate scholarships, post-doctoral research fellowships, and can help with undergraduate scholarships and other scholarships and funding.
Some of the research grants are made possible through the Discovery Indigenous Scheme.
Research grants
Victoria University Infrastructure Grant, 2016, Aboriginal History Archive: A research archive of the Aboriginal land rights, self-determination and Black Power movement in Australia. Gary Foley, Anthony Birch, Edwina Howell and Mat Jakobi, $159,551.
Victoria University, Indigenous Central Research Grant Scheme, 2015, Aboriginal People in Melbourne's West: Displacement, place identity and social and emotional wellbeing. Christopher Sonn and Anthony Birch, $19,589.
Victoria University, Indigenous Central Research Grant Scheme, 2015, Welfare, justice and displacement: Indigenous genealogies in Victoria. David McCallum, $23,742.
Screen Australia, 2014, Development funding – Documentary funding for 'Shooting Blacks' film project with Olsen Levy Productions. Gary Foley, co-producer, $15,000.
Australia National Data Service – Open Data Project, 2014, Foley Collection. Gary Foley and Edwina Howell, $35,000.
Victoria University, Indigenous Central Research Grant Scheme, 2014, The struggle to re-open Northlands High School. Gary Foley and Clare Land, $23,657.
Victoria University, Indigenous Central Research Grant Scheme, 2013, ASIO surveillance of the Black Power movement. Gary Foley and Edwina Howell, $26,780.
Australia Council, 2012, ASIO Theatre Project. Ilbijerri Theatre and Malthouse. Creative developer and co-writer, Gary Foley, $30,000.
ARC funding
The Discovery Indigenous Scheme provides funding to Administering Organisations. It supports research programs led by an Indigenous Australian researcher and builds research capacity of higher degree research and early career researchers.
You can read more about the objectives of the Discovery Indigenous Scheme on the ARC website or on the VU ARC funding page.
Lisa Bellear PhD scholarship
The Lisa Bellear PhD scholarship is granted to a promising Indigenous Australian researcher wishing to undertake a graduate research degree.
Lisa Bellear (1961-2006) was a Goernpil woman of the Noonuccal people of the Minjerribah, Queensland. She was a poet, photographer, activist, dramatist, comedian, broadcaster and academic. She lost her mother and connection to her family when she was only weeks old and overcame some of her personal grief and loss through her 'adoption' into the Aboriginal and Torres Strait Islander community in Victoria, particularly the Harding family. She traced her biological family and went on to be an accomplished, caring and strong woman. Lisa was passionate about social change, she was always participating and contributing to campaigns and protests and always out on the streets with her camera.
Lisa graduated from The University of Melbourne in social work and was employed as an academic at The University of Melbourne, LaTrobe University and Victoria University. She wrote a book of poetry Dreaming in Urban Areas (UQP, 1996) and was a founding member of the Ilbijerri Aboriginal and Torres Strait Islander Theatre Co-operative, the oldest Indigenous Theatre company in Australia. n avid photographer, Lisa took thousands of photographs over many years while she engaged in Aboriginal politics. She read at literary festivals, pubs and conferences across Australia and was published in literary journals, newspapers and anthologies. She broadcast on 3CR in the Not Another Koori Show for more than 20 years.
She was a friend, colleague and staunch supporter of the Moondani Balluk Indigenous Academic Unit and her skills and expertise are carried on through the VU graduates that she taught and mentored in the Bachelor of Education/Arts (Nyerna Studies) program.
Lisa herself best summed up the demands and gift of her poetry: "You can allow your eyes and heart to see. See the injustice, cruelty; and you can also hear the laughter and the love."
The current Lisa Bellear PhD candidate is Paola Balla.