The College of Sport & Exercise Science's $68 million high-technology teaching and research facility at Footscray Park. The facility is designed with multiple integrated spaces to facilitate interdisciplinary teaching, research, and engagement in the key areas of sport and exercise science.
Our 29 new labs are fitted with the latest technology and equipment. They support world-renowned research undertaken by the Institute for Health & Sport, and are used by professional sports team and community organisations.
Facilities image gallery
View an image gallery of our sport and exercise facilities.
Laboratory facilities
Within our $68 million sport and learning precinct, you enter into an engaging, switched on environment. 
Exercise Physiology laboratories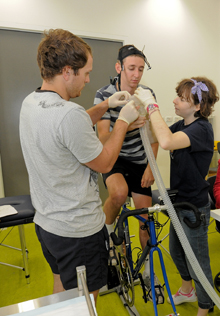 Our Exercise Physiology Labs are used to study human exercise performance and physiology in sport, exercise and health.
A range of labs in this area include:
human performance lab
muscle strength and power lab
environmental exercise lab
heat chamber
body composition lab
invasive exercise lab
Altitude Hotel
blood biochemistry lab
exercise physiology teaching lab.
The Altitude Hotel, one of the exercise physiology labs is designed to simulate a high altitude living environment by increasing the level of nitrogen in the air. The Hotel is often used by elite athletes to enhance performance or endurance (for example players from the AFL club the Western Bulldogs).
Biomechanics Labs:
Designed to perform technique analysis and understand the mechanical factors that affect human movement in sport, in the elderly and in disease.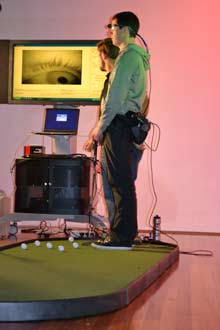 Motor Learning & Skilled Performance Labs:
Used to study the acquisition, performance and perceptual-cognitive aspects of movement and related skills.
This lab is typically used for:
skills acquisition
skills expertise development
visual perception.
It's been used for the relationship between perception and putting action in golfers, as well as fundamental motor and visual skills of AFL footballers.
Features of the lab include:
3D video
motion capture
eye capture
timing gates
pressure mats.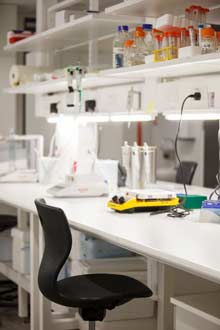 Biochemistry & Molecular Biology Labs:
Used to analyse cells and tissues and understand the key processes controlling muscle and cellular function.
Motor Control & Biofeedback Labs:
These labs are used to analyse neural control of muscle contraction and biofeedback.
Exercise Rehabilitation:
Facilities include a clinic, indoor pool, gymnasium and indoor court facilities.
Recreational sport and fitness facilities
We have fitness centres on many of our campuses. The biggest and most impressive fitness centre is at Footscray Park, which has three-levels. The centre includes swimming, sport and teaching facilities. It has a 25 metre x 25 metre heated pool, a fully equipped gym with cardiovascular equipment and multi-purpose aerobics and martial arts rooms.
See all our sports and fitness facilities.