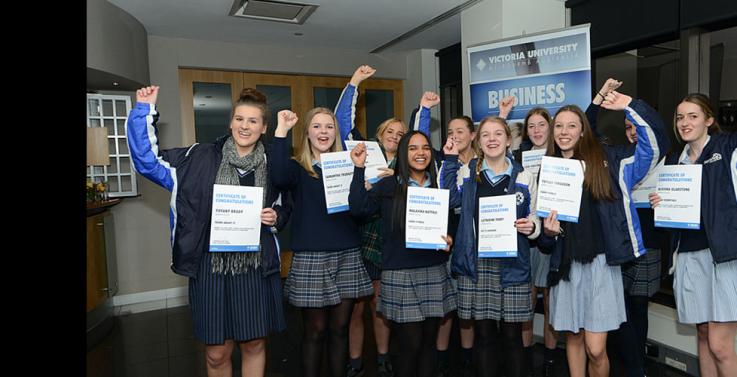 Year 10 and 11 students from across Victoria showed their winning ideas in the annual I Plan a Business (iPAB) contest.
Business plan ideas included an artificial ski slope made from man-made snow, a drive-thru supermarket, and a taxi service for teenagers.
A total of 363 business students from 29 secondary schools across Victoria entered Victoria University's iPAB competition, now in its seventh year. The competition requires business students to put their classroom theory into practice by producing a business plan for the next big idea.
Winners, who came from schools as far away as Colac and Frankston for the awards ceremony at VU's City Flinders Campus, received $500 for their efforts. Entries were judged by two VU alumni:
Jason Cunningham, media finance guru and founder of the multi-million dollar Carlton accounting firm, The Practice
Natalie Davies, national marketing manager of Momentum Energy.
The keynote speakers for the evening were:
Alan Kohler, a financial journalist who has worked in senior roles at the ABC, The Age and the Financial Review
VU graduate Chanel Costabir, founder of the online store The Lingerie Boutique.
The 2015 Victoria University iPAB winners are:
Best business plan – Year 10 or 11 Individual - $500 shared between two co-winners
Equal Winner: Toby McCarney, Trinity College, Colac
Project: The Peak
Business Teacher: Luke Featherstone
The Peak is an artificial year-round outdoor ski slope created with innovative snow technology.
Equal Winner: Leen Al-Sharea, Sirius College, Broadmeadows
Project: Shopping List
Business Teacher: Sebnem Arslan
Shopping List is a drive-thru supermarket offering top brands and efficient service.
Best business plan
– Year 10 or 11 Group - $500 shared between two co-winners
Equal Winner: Vivian Nguyen, Chloe Pio – Point Cook Secondary College, Point Cook
Project: Teenage Taxi
Business Teacher: Kerry Rosser
Teenage Taxi is an app-based taxi service to transport teenagers to pre-registered destinations.
Equal Winner: Ellie Lipman, Catherine Terry, Charlie Nakervis – Berwick College, Berwick
Project: Pay it Forward
Business Teacher: Melissa Quenette
Pay it Forward is a restaurant where patrons can pre-purchase a meal for someone in need.
Best social enterprise – Year 10 or 11 - $500 shared between two co-winners
Equal Winner: Tiffany Brady, Samantha Trudgett, Riley Nawacki – Berwick College, Berwick
Project: Think About It
Business Teacher: Chris Sacco
Think About It is an online stationary store for students that support Indigenous education.
Equal Winner: Harrison Lowe, Joseph Dodds – Catholic College, Wodonga
Project: Beats from the Street
Business Teacher: Alison Leahy
Beats from the Street provides music education to homeless teenagers.
Best Vocational Education project - $500
Adamantia Kambouropoulos – Victoria University Institute of Technology (VUIT)
Project: Love Yourself
Business Teacher: Louise Moss
Love Yourself is a beauty salon that provides cosmetic and therapeutic services.
Best multimedia project – $500
Chelsea Gardner, Woodleigh School, Langwarrin South
Project: Cirque-us
Business Teacher: Michael Stephens
Cirque-us offers circus entertainment for private parties, corporate events and festivals.