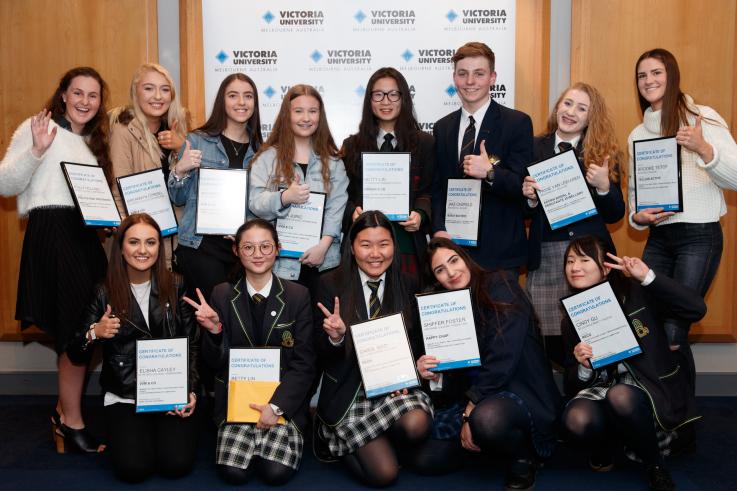 A vending machine with vegan food, a translator watch, and an animal-friendly restaurant were among the winning ideas of business students from across the state in Victoria University's annual I Plan a Business (iPAB) contest.
Nearly 300 business students in Years 10 and 11 from 34 secondary schools across Victoria entered the competition, now in its eighth year. The competition requires business students to put their classroom theory into practice by producing a business plan that could become the next big idea.
Winners, who came from schools as far away as Berwick, Colac, and Camperdown for the awards ceremony at VU's City Flinders Campus, received up to $500 for their efforts.
Judging panel chair and marketing guru Ailsa Page said she was pleased with the excellent calibre of ideas for such young emerging entrepreneurs. Ailsa has assisted hundreds of businesses to achieve their marketing goals, and has also judged the Telstra Business Awards and the Australian Marketing Institute National Marketing Excellence Awards.
VU College of Business Lecturer Rod Herbert said iPAB aims to encourage young people to develop their creativity and business skills, and expand on them in the years ahead.
The 2017 Victoria University iPAB winners
Best Business Plan (individual) - $500
Winner: Polly Moloney, Mercy Regional College, Camperdown
Project: Polly's Pony Provender
Business Teacher: Chris Grant
Polly's Pony Provender provides horse feed that owners can custom-design for their horses.
Best Business Plan (group) - $500
Winners: Imogen Stoneman, Ivka Juric, Elisha Cayley and Breannyn Cordell, St Peter's College (West Campus), Cranbourne West
Project: VVM & Co
Business Teacher: Danick Couty
VVM & Co is a vending machine business with vegan food.
Best Multi-media Business Plan – $500 shared between two co-winners
Equal Winner: Paige Van Leeuwen, Beacon Hills College, Berwick
Project: Adorn Bridal
Business Teacher: Rodney Gonsalves
Adorn Bridal is an exclusive jewellery business for brides and debutantes.
Equal Winner: Jake Cawfield, Beacon Hills College, Berwick
Project: Munch Busters
Business Teacher: Rodney Gonsalves
Munch Busters is a school lunch-making business that delivers food to kids at school.
Best Social Enterprise Plan - $500
Winner: Betty Lin – The Mac. Robertson Girls' High School, Melbourne
Project: Mirror & Co
Business Teacher: Irene Serpless
Mirror & Co is a café that provides jobs for the unemployed while helping them from their plight.
Runners up
Business – Group – Cindy Gu, Betty Lin and Carol Mao- Westbourne Grammar, Truganina
Business – Individual – Shiffer Foster – Antonine College, Pascoe Vale
Business – Individual – Selena Nguyen – Trinity College, Colac
Social Enterprise – Molly McMillan and Brooke Tetof – Berwick College, Berwick
Victoria University congratulates all winners.