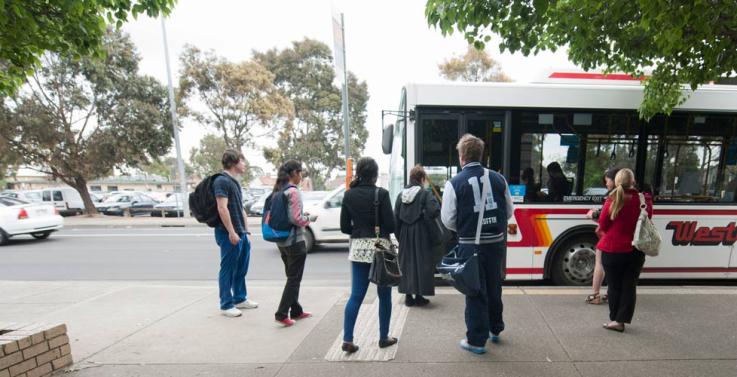 A joint project between Victoria University and the WEstjustice Sunshine Youth Office (previously Sunshine Youth Legal Centre) has found some children in Melbourne's west skip school because they don't have enough money to pay for public transport.
Director of Clinical Programs at the VU College of Law and Justice, Su Robertson says the College operates a clinic at the centre where about 50 per cent of clients seek help with fines for not having a valid Myki or a valid concession card.
Ms Robertson says children are not allowed to drive, so public transport is a necessity.
"It's not a luxury for a kid to get to school. If they don't have enough money on their myki, it's not an issue of fare evasion. They shouldn't have to weigh up whether to risk a fine or risk getting in trouble for not going to school," Ms Robertson said.
"For children who are vulnerable because there's violence at home or there's extreme poverty, sometimes if they get a fine or don't go to school because they don't have money, they face violence in the home. It can really blow out beyond all proportion."
These are some of the issues emerging from the Young People and Fines Bulk Negotiation Project. The project is surveying youth legal centre clients aged 14 to 18 years, as well as students at several western suburbs schools, and professionals who work with them. The aim is to develop strategies to address the issue in a group way, using an alternative dispute resolution model, and to kick start systemic change.
Ms Robertson says public transport is free for children going to and from school in the United Kingdom, and such creative approaches to tackling the problem in Victoria is a matter of human rights.
"In Australia and around the world we now have a special way to look at childhood, enshrined in policy and legislation, supporting whole child development. The right to education, wellbeing, safety and adequate standard of living – that's talked about in international human rights documents, and is now coming through in our law," Ms Robertson said.
"The Children's Youth and Families Act talks about it being the responsibility of our whole society to ensure children have rights to the things they need. It's not just the responsibility of their families, it's the responsibility of all institutions, and they shouldn't be discriminated against because of their background for something that's not their fault."
"Hitting the hip pocket usually motivates us adults but it doesn't motivate kids because they don't have a hip pocket to hit."