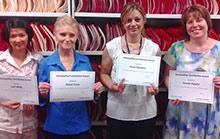 Staff recognised for outstanding contribution, service and innovation.
Victoria University Library and Records & Archives Services staff were recently recognised for their great work with the presentation of the 2015 Library, Records & Archives Awards. The recognition comes from nominations by VU staff and students for the Outstanding Contribution Award and the Service Award, and from nominations by only Library, Records and Archives staff for the Innovation Award.
Outstanding Contribution Award
The Outstanding Contribution Award was presented to the Student Records Team – Sharon Fraser, Janti Whitty, Dezzie Ekladious, Renelle Papalia, Daniel Galea, Abby Uren and Paul Blanks.
The Student Records Team responds to a high volume of requests for student information across all areas of the University on a daily basis. The team members were recognised for consistently providing excellent customer service, often at very short notice, in a prompt, efficient and courteous manner.
Service Award
Bruce Stubbs was given the Service Award for being an excellent multi-tasker, who is willing to take on new roles, challenges and responsibilities. He consistently delivers a high level of quality service across all Library work areas and always places the student experience front and centre.
Innovation Award
The Innovation Award was presented to Karen Anderson, Julie Gardner, Lyn Wade and Matthew Adcock for completing the Foley Collection project supported by the Australian National Data Service (ANDS).
The Foley Collection ANDS project is the first major data collection to be successfully loaded onto Victoria University Research Repository. The team organised the collection as an archive, adapted the repository as a tool for hosting data, and developed and applied appropriate metadata and licensing for the collection. The Foley Archive is a unique collection of print, audio-visual and digital works collected over the past 45 years by Aboriginal activist/academic Gary Foley.