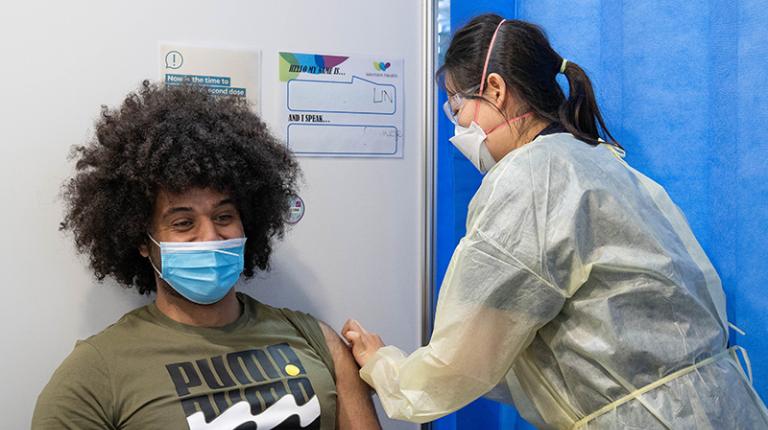 On Monday 18 October, Western Health celebrated administering its one millionth COVID-19 vaccine.
The West Metro COVID-19 Vaccination Program has been proudly supporting the vaccine roll-out at Sunshine Hospital, Melbourne Showgrounds, Eagle Stadium, Melton West and Werribee St Vincent's Hospital.
Recently, VU Whitten Oval became a 'pop-up' clinic, and will return on October 23 and 24 following the impressive community turnout of more than 2,000 people three weeks ago.
VU Polytechnic will also show support when culinary students roll up their sleeves to prepare and pack lunches to frontline workers at Vaccine Clinics in November.
Former students in VU Polytechnic, Magdalena Cekanceska, Danny D'mello and Anne Reed who completed the Certificate III in Health Services Assistance HLT33115 are some of the many healthcare heroes working on the frontline to protect communities in the west.
Alumni Jo McAuliffe (Bachelor of Nursing, 2013) is an ICU Nurse at Sunshine Hospital. Her typical day includes rigorous attention to PPE, protecting herself and inevitably her family first before rushing in to care for a deteriorating patient. Despite the daily challenges associated with bedside care, the camaraderie between nurses, doctors and other health staff has meant a united effort to provide best possible outcomes for patients.
It feels like a badge of honour, to be able to support the sickest members of our community as such a critical time.

I think our team work has improved, our focus on protecting ourselves and each other has improved. The support from our colleagues is like no other.
To show your support and give back to our health care heroes, donate a coffee today! As little as $5 will shout one healthcare worker a coffee and help get them through another exhausting day on the frontline.