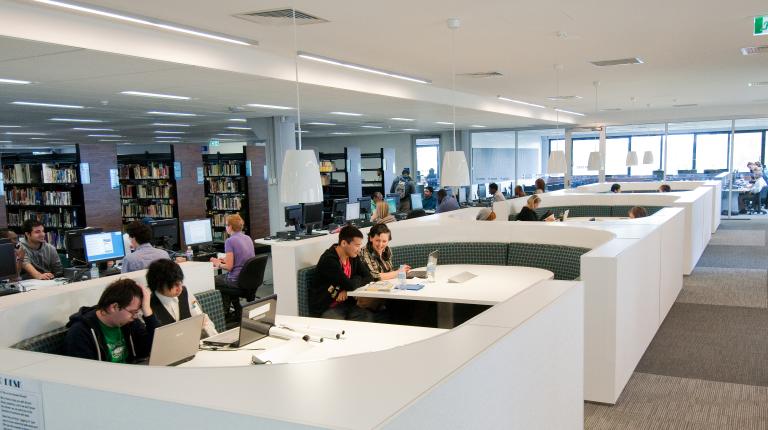 Welcome to all new and continuing students! Be ready to study and use library online course/unit resources and services to assist your online studies, with this quick guide.
Explore your online library
Explore the range of library resources and services available:
When off-campus, you need to log in with your MyVU username and password to view full-text items when:
While most of your essential learning materials will be embedded in the unit space on VU Collaborate, you might also find the resources below helpful in your studies.
Use Library Guides
Bookmark Library Guides for easy access to course and unit guides as well as 'how to' guides for step-by-step instructions and short videos for help with:
Read e-books
Read e-books online or, to read an e-book offline (no internet access required), you first need to download the e-book via a secure internet connection.
Depending on the e-book provider, you can simply download PDF chapters, or in some cases download the whole book using Adobe Digital Editions (free software). View instructions and short videos on how to download e-books.
Complete Academic Integrity modules
As you access and use online resources for your study, it is important to ensure that academic work comply with VU's Academic Integrity Policy. 
See the Academic Integrity Student Guide, in VU Collaborate Help, for step-by-step instructions on how to complete the Academic Integrity modules in VU Collaborate. Understand why academic integrity is important for your study and career, and why it is important to present authentic work and acknowledge the work of others.
Get VU EasyRef
VU EasyRef is an easy-to-use interactive referencing tool, accessible on desktop and mobile, for referencing support when you need it. VU EasyRef contains examples on how to reference using all the referencing styles used at VU.
Download the Victoria University App on your smartphone, or watch a short video on how to access and use VU EasyRef.
Create a LinkedIn Learning account
You have free access to LinkedIn Learning – over 15,000 expert-led, online courses and video tutorials to develop business, technology and creative skills for your study and career. 
Create your LinkedIn Learning account:
Your LinkedIn Learning account is for accessing video content and is not a personal LinkedIn profile. Once you have created a LinkedIn Learning account, you can download and view LinkedIn Learning videos offline.
Getting help
For assistance: