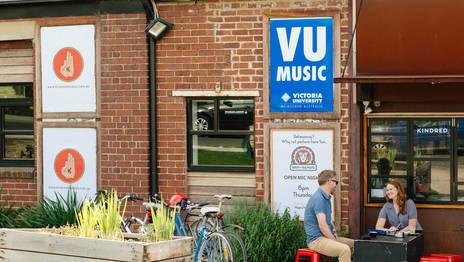 In an article by Lonely Planet, VU's Kindred Studios has been listed as one of the top 10 shared workspaces in the world.
Writer Savery Raz stated that he chose Kindred Studios, based in Yarraville, because it's "not just a workspace but also has studios, a bar and yoga classes."
Kindred Studios was established in 2005 and features a range of spaces for arts businesses and practitioners including band rehearsal rooms, a recording studio, co-working spaces, a licensed performance venue, cafe and a TV studio.
VU formed an innovative partnership with Kindred Studios in 2009, after the Sunbury Campus closure and students enrolled in music programs found themselves without a home.
Since 2010, VU students have had exclusive access to around a quarter of the floor space at Kindred for their music and sound production classes across TAFE and Higher Education.
Using state of the art equipment owned by the University and Polytechnic, the purpose-built spaces at Kindred are available to students until midnight Monday to Friday and on weekends.
As a result, opportunities for VU students to hone their skills and make crucial industry network connections are plentiful.
VU staff have first-hand music industry experience, meaning the students complete their course as work-ready graduates.
Kindred Studios is located just 1km from VU's Footscray Nicholson campus.
Take a virtual tour of Kindred Studios.