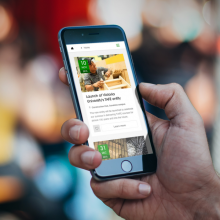 VU's Centenary website has been awarded as a 'Silver Winner' in the Community Website (Digital Experience) category at the Melbourne Design Awards.
"This is a wonderful result for Victoria University and the Centenary program," said Ros Casey, Director, VU Advancement. "The award provides us with very positive news leading into our Centenary year and is also a terrific way to promote the Centenary program to the wider community."
"We hope students, staff and the extended VU Family will explore the Centenary website as it continues to evolve throughout 2016."
The site is a collaborative effort between the VU Web and Centenary teams, and Monkii. The aim was to capture a sense of celebration and encourage interest and participation in Centenary activities, to produce a dynamic, visually engaging, informative and easily accessible website.
The Centenary website continues to evolve with the Program of Activities recently being unveiled, along with an online exhibition Changing Opportunity where you can learn more about VU's history.
"Our Centenary is an opportune time to not only reflect on our heritage but share our vision for the future and to reinforce the overarching distinctiveness of our role as the University of Opportunity and Success", said Ros Casey.