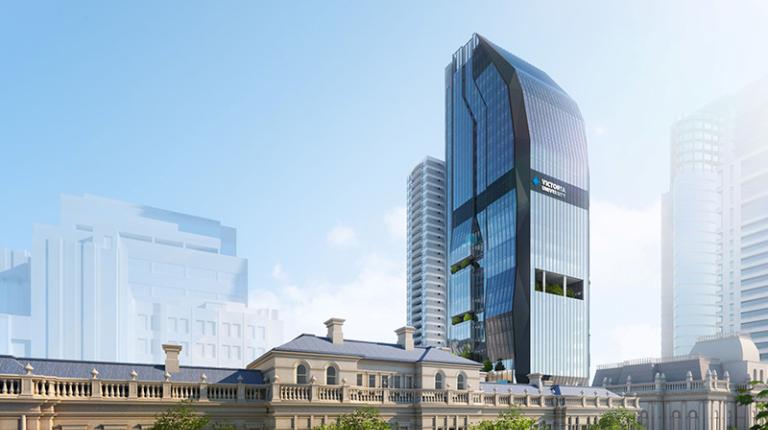 Victoria University will take official possession of the 32-storey VU Tower just one year from now, in December 2021, moving one step closer to consolidating its Melbourne city campuses into one vibrant City West Precinct on Queen and Little Lonsdale Streets.
The iconic new precinct, on schedule to open at the start of the academic year in 2022, will provide state-of-the-art teaching facilities in a striking vertical campus in the heart of Melbourne's legal and commercial district.
Built with partner, superannuation and property investor ISPT, with support from the  Department of Education and Training Victoria, the project also includes refurbishments to two heritage-listed buildings on the site: the former Land Titles Office, and the Records Office, current home to VU's College of Law & Justice.
Under a 30-year-agreement, VU will lease the VU Tower and other buildings from ISPT, and reinvest the proceeds into an Infrastructure Fund for its other campuses throughout the west of Melbourne. 
VU Vice-Chancellor Peter Dawkins, who retires at the end of the year, said that as the last major project under his direction, the 5-Green-Star-rated VU Tower will be a landmark building that provides VU with a secure, long-term, and iconic presence in Melbourne's CBD.
"The precinct will become a central learning hub in the western part of Melbourne's CBD that actively facilitates collaborative engagement with industry and university partners for a world-class education for our students."
Tower will consolidate activities of existing city campuses
The arrangement with ISPT provides VU with 25 levels of predominately student-facing activities, in addition to a ground floor arrival lobby with retail offerings, including food and beverages.
Designed by Jackson Architects, and interior fit out by Woods Bagot, the 24,000-square-metre vertical campus will consolidate the activities of VU's current city campuses at Flinders Street and King Street.
The new campus will host students from VU Business School and VU College, in addition to osteopathy and dermal therapy students from the College of Health and Biomedicine, and hair and make-up students from VU Polytechnic, including space for their practice clinics, which are open to the public.
VU Research will also have an important presence within the new precinct, as will the College of Law & Justice, which will benefit from new spaces in the precinct.
A library and student service centre will be located on Levels 1 and 2, while Level 10 will host a social hub with student lounge, an external balcony, and a café. A prominent internal vertical stair will connect Levels 1 to 16.
"Taking formal possession of this site just one year from now is a significant step towards realising the University's transformation and ensuring our campuses are great places to study and work," said Professor Dawkins.
Contact us