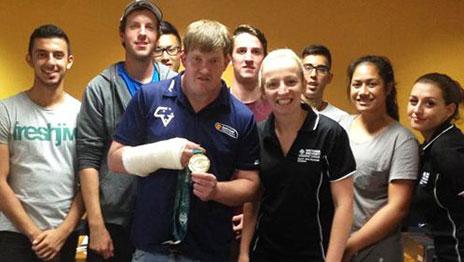 Victoria University Diploma of Sport Development students are volunteering their skills and talents as Melbourne prepares to host the 10th Australian Special Olympics this October.
In what is expected to be the largest Special Olympic Games ever hosted in Australia, more than 1000 athletes with an intellectual disability will represent their state or territory in 16 Olympic-style sports including basketball, aquatics, gymnastics, softball and tennis.
The VU students are helping with pre-Games promotion by fundraising and conducting sport clinics and awareness campaigns at several mainstream and specialist secondary schools in Melbourne's west. Some students will also lend a hand during the Games themselves – to be held 20-25 October – as one of an estimated 800 volunteers.
Lecturer Monique Collins says the Games offer a great opportunity for students to get out of the classroom to volunteer in a growing area of community sport and recreation while earning credit towards their Community Recreation Services subject.
Games Operations Manager Ann Monaghan says the Special Olympics are delighted to partner with VU's College of Sport and Exercise Science through the students' projects.
"We are very excited to work together on this program and change some attitudes while fostering new friendships and acceptances of different needs," she said.
The October Special Olympics National Games are a huge celebration of ability as well as a qualifying event for the 2015 World Games in Los Angeles where athletes can represent Australia against 180 other countries on a world stage.