Wednesday 6 September 2017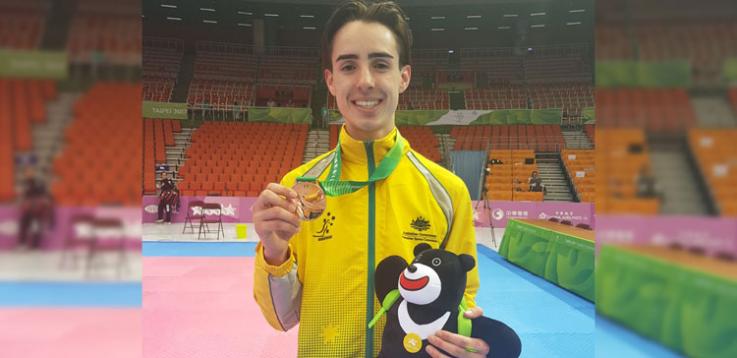 Two VU students have brought home medals from the 2017 World University Games in Taipei.
VU was proud to have had four elite student athletes selected to be part of the Australian Uniroos at the World University Summer Games.
Lauren Scherf (basketball)
Maeve Coughlan (judo)
Quoc Phong Tran (taekwondo-poomsae)
Bailey Lewis (taekwondo-sparring)
The Emerging Opals Women's Basketball, with Lauren Scherf (Bachelor of Sport Science (Physical Education)), won gold, defeating Japan 85-78 in the final. Lauren played an exceptional tournament and was instrumental in the final as part of the basketball Uniroos engine room collecting 18 points, 12 rebounds and 5 assists.
Bailey Lewis (Bachelor of Sport Science/Psychological Studies) produced some spectacular fighting to win bronze in the Taekwondo (54kg). Bailey said it was one of his best performances. He said the overall experience at the Summer Universiade, the atmosphere, world class competition and athletes village was fantastic. Bailey hopes to represent VU at the 2017 Australian University Games on the Gold Coast in the last week of September.
Overall the Uniroos finished with four gold, three silver and two bronze medals.
VU congratulates all our representatives.