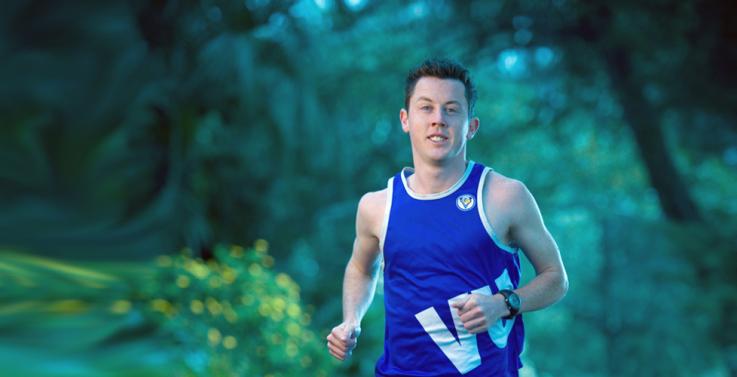 We are cheering on Victoria University's students and alumni who are competing in the 2014 Commonwealth Games in Glasgow, Scotland from 23 July to 3 August.
Keep up to date on their progress via the VU Sport Twitter account and Facebook page.
Students
Miao Miao
Bachelor of Sport and Recreation Management
Miao Miao, 33, is Australia's most successful and highest ranked table-tennis player with a comprehensive list of achievements including the 2013 Australian Top 10 Tournament Gold Medallist. However Miao is not nearly as acclaimed in Australia as she is in China, a country where table tennis champions are akin to movie stars. She has the rare distinction of representing Australia at Sydney, Athens, Beijing and London in four consecutive Olympic Games. She will compete in Glasgow in the team, singles, women's doubles and mixed doubles events.
Morgan Mitchell
Australian national sprint champion and rising star Morgan Mitchell, 19, was selected for the 4x400-metre relay as well as the single 400-metre event. Morgan has been competing in athletics since age 5 and has maintained her dream of emulating hero Cathy Freeman with impressive results reflected in a personal best and qualifying time of 52.22 seconds. From her humble beginnings as a Werribee sensation to becoming Australia's top-ranked 400-metre sprinter, Morgan is aiming for gold in Glasgow.
Gronya Somerville
Bachelor of Exercise Science and Human Movement
Gronya Somerville, 18, is a promising addition to Australia's badminton force heading to Glasgow. With a remarkable Chinese ancestry and direct links to the renowned Qing Dynasty scholar and political reformer Kang Youwei, Gronya's background is as impressive as her recent sporting achievements. She took out the 2014 Oceania Women's Doubles Champion and aims to make the quarter finals of that same event at the Games. Gronya will be competing in the Women's Doubles and the Mixed Doubles events.
Ellen Pettitt
Master of Communication
Ellen Pettitt, 28, will swap her regular event of high-jump for triple-jump in Glasgow, becoming the first Australian athlete to compete in both vertical and horizontal jump events. Having qualified with a distance of 13.43 metres in the triple-jump, Ellen's ambitions at the Games are no less than to break 14 metres, win gold and break the Australian record. In 2012, Ellen was recipient of VU's prestigious Female High Performance Sport Scholarship.
Kotuku Ngawati
Bachelor of Exercise Science and Human Movement/Bachelor of Psychological Studies
Kotuku Ngawati, 20, gained selection for the 2014 Commonwealth Games as a 200-metre Individual Medley swimmer. She qualified with a personal best time of 2:13.8 minutes at the 2014 Australian Swimming Championships. With Michael Phelps as her sporting hero, Kotuku's career highlight before making Australia's 2014 Commonwealth Games team was taking out eight gold medals at the 2010 Trans-Tasman series.
Sara Collins
Sara Collins, 23, will compete on Australia's judo team, which is making just its third appearance at a Commonwealth Games. As Australia's top woman in the 70-kilogram category, Sara aims to medal in Glasgow and has her eye on qualifying for the 2016 Olympic Games in Rio.
David Powell
David Powell, 20, will represent Australia in table tennis in the team, singles, men's double and mixed doubles events. Starting the sport at age 8, David's peak career performance was achieving bronze medals in the men's singles contest at the 2008 and 2010 Australian Senior Table Tennis Championships.
Alumni
Julie Corletto
Julie is a member of the Australian Diamonds netball team and plays in either wing defence or goal defence. Corletto was outstanding for Australia at goal defence. It is Corletto's first Commonwealth Games, having been ruled out of the 2010 Commonwealth Games because of injury. She has previously won two world championship gold medals, and is now based in Auckland with her husband Daryl, an NBL player, playing with the Northern Mystics.
Liam Adams
Champion long-distance runner Liam Adams, 27, will compete in the Glasgow Games' marathon. Liam was the first Australian across the line in his debut in the sport at the 2013 Melbourne Marathon, with a time of 2 hours 14 minutes. He was named Australia's best male university student athlete in 2010 at the Australian University Sport Awards, and was VU's male athlete of the year in 2009 and 2010. He is also a two-time winner of the 14-kilometre Sydney City2Surf competition, the world's biggest road running race.
Ross Smith
Badminton player Ross Smith is competing at his third Commonwealth Games. He competed at the 2012 Beijing Olympics and is 3 times Oceania doubles champion. In 2014 he was runner-up in the doubles Vietnam International Badminton Challenge. In 2013 he was mens doubles winner at the Victorian International and the Auckland International championships.
Renuga Veeran
Renuga who has been partnered with Ross Smith in mixed doubles in many major international badminton tournaments. She has represented both Malaysia and Australia internationally and has been a member of the Australian national team for the past eight years. Renuga competed at the 2012 Olympic Games reaching the quarter finals in the women's doubles competition. Renuga was VU's 2013 Elite- High Performance Sport Scholarship recipient.
Fiona Themann
Fiona Themann is competing for Scotland in netball at the Commonwealth Games. While studying the Bachelor of Education at VU Fiona competed at the University Games (2008). She was a member of Victorian Fury netball team and the co-captain of Western Lightning Championship team in the Victorian netball league.
Ali Abdo
Ali has competed in wrestling at three Olympic Games (Sydney, Athens and Beijing). This will be his first Commonwealth Games. "I've been around for a fair bit and for me this could be my final run." Ali studied a Masters in Osteopathy at VU.
Gene Kapaufs
Gene is competing in the Australian men's wrestling team. He was the highest-ranked returnee from the Delhi Commonwealth Games team. Gene's a past electrical student at VU's Sunshine campus.
Mehrdad Tarash
After finishing ninth in wrestling at his first Commonwealth Games four years ago in Delhi, India, Mehrdad is confident he's better prepared this time around. Mehrdad studied the Bachelor of Business.
Staff
Long-time VU massage teacher, Stuart Hinds, has been invited to assist the 2014 Australian team with his magic hands. Stuart has been at the last four Olympic Games as Australia's soft tissue therapist. In combination with his VU teaching and a busy private practice in Geelong, Stuart works with elite road cyclists and other athletes including AFL players.
Sponsors
We are cheering for the Diamonds netball team at the Commonwealth Games. Players from our sponsored team the Melbourne Vixens will be competing with the Diamonds, notably Bianca Chatfield who is the Vixens Captain and Diamonds Vice Captain.
Note: Victoria University and The Melbourne Vixens had a long-standing partnership until August 2018.