VU Staff finish 2022 brilliantly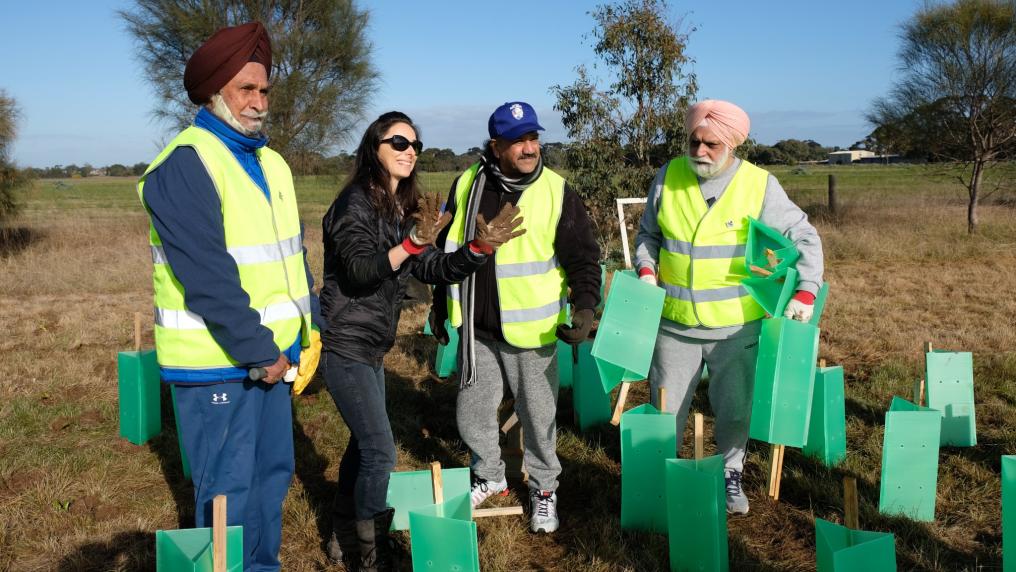 The VU Staff Awards acknowledge the contribution and expertise of people whose work makes a significant impact and celebrates VU staff who positively contribute to the University's workplace culture.
Wednesday 14 December 2022
After weeks of anticipation, 60 submissions and lots of very careful deliberation, the winners of the annual Victoria University Staff Awards: Start Well, Finish Brilliantly have been announced.
The Awards acknowledge the contribution and expertise of people whose work makes a significant impact and celebrates VU staff who positively contribute to the University's workplace culture.
All staff were encouraged to submit applications for eight categories, each aligned to the University's strategic pillars: Doing Dual Differently, Partnering With Principle, Maximising Research With Impact, Protecting Country and A Thriving Place to Study and Work.
Vice-Chancellor Professor Adam Shoemaker said: "The 2022 VU Staff Awards recognise the achievements and brilliance of our colleagues. And this year's 13 award winners showcase the breadth and depth of Victoria University's people, their knowledge, commitment, and sheer hard work. Congratulations to all recipients for what you have done on our behalf.  
"I am so proud of the incredible sense of community that thrives at VU – our award winners are just one indication of the excellence we have here." 
Winning submissions
The winning submissions for the Learning and Teaching Excellence Award are:
Zombie Apocalypse provides game plan for learning physiology
VU Online team
Allied Health Scholarship of Teaching and Learning Seminar Series
Judges Dianne Semmens (Deputy Vice-Chancellor Vocational Education), Professor John Germov (Deputy Vice-Chancellor Higher Education) and Professor Tom Clark said the winning submissions were outstanding. The judges described Zombie Apocalypse as "engaging and imaginative". The VU Online team were singled out for encapsulating the benefits of partnering with principle and the Allied Health submission was an effective example of "thinking differently."
The winning submissions for the Engagement with Impact Award are:
Change Makers

: Research program partnering with community sport clubs, sport governing bodies and community-based organisations to achieve sustainable social change in relation to gender equity and social inclusion.
Wyndham Tech School: A three-year plan was created to move WTS from the lowest performing Tech School in Victoria to the top performing Tech School.
Judges Wade Noonan (Deputy Vice-Chancellor External Relations and Partnerships), Kirsten Jeffery (Project Director) and Professor Karen Dodd agreed that Change Makers had a strong ethical alignment with multiple partners, and "fantastic testimonials and student engagement", while the Wyndham Tech(nology) School submission demonstrated a "clear and highly effective engagement approach, producing outstanding outcomes for Melbourne's west." 
The winning submissions for the Research with Impact Award are:
Women in Sport Research team: the

Sport Uniforms for Girls and Women

study explored the vital role sport uniforms played to encourage girls in sport and provided practical evidence-based advice for sport organisations.

Childcare Deserts

:  this report matched geographic locations with literature about early learning to examine access to childcare across 57,000 Australian neighbourhoods.
The Women in Sport Research team was described as outstanding by judges Andy Hill (Deputy Vice-Chancellor Research and Impact), Professor Zora Vrcelj and Karen Jackson (Executive Director Moondani Balluk). "The work clearly articulated the impact on a national and international level." The Mitchell Institutes' Childcare Deserts report attracted significant and sustained media attention.
The winning submissions for the Sustainability Award are:
Werribee Tree Canopy (WTC): 170 volunteers planted more than 5000 trees at VU's Werribee campus.
Eco Construction Crew: worked to commercialise innovative construction materials from waste-products collaborating with social enterprises.
These projects strongly aligned with VU values. Judges Lucy Franzmann (Chief Financial Officer), Adrian Wong (Executive Director Procurement and Finance Operations) and Professor Stephen Gray (Executive Director, Institute of Sustainable Industries and Liveable Cities) applauded the WTC's ability to work effectively with stakeholders, industry, volunteers and government.
The winning submissions for the Student Impact Award are:
Student Life Events team: in total 1,721 students participated in 15 events across all campuses and through these events, students meet new people, make new friends and learn more about navigating their VU journey.
VU Employ: the team have made a significant positive impact for VU students with a range of services, programs and events focusing on student employability and employment outcomes.
Judges Peter Radoll (Deputy Vice-Chancellor People and Organisation), Leon Kerr (Director Student Services) and Farriz Roslan (Research) observed the winning entries were on a "great trajectory" and emphasised their positive impact on students.
The winning nominations for the One VU Award are:
Senior Video Professor Stuart Clegg
Associate Professor Mary-Rose McLaren
Since his appointment in 2017 as a digital content creator for VU's Connected Learning team, Stuart has become the University's inaugural in-house senior video producer.
Vice-Chancellor Professor Adam Shoemaker, Gail Bray (Director Wyndham Tech(nology) School and Professor Alex Parker commended Stuart on his thoughtful and creative storytelling and for being a "huge team player who treats everyone with warmth and respect."
Associate Professor Mary-Rose McLaren is described as a democratic leader who supports and encourages staff and students to follow their passions and utilise their unique skills and talents to flourish.
The judges said the Associate Professor from the Institute for Sustainable Industries & Liveable Cities has an inclusive and engaging approach and supports staff and students from diverse backgrounds.
The winning submission for the People's Choice (public vote) is:
Stuart Clegg: VU's Senior Video Producer
Staff across the University were invited to vote for an individual. In total 24 entries attracted hundreds of votes, but by the end of the one week voting period, Stuart Clegg was the clear winner with a 119 endorsements.
---
For the full list of winning teams, staff can visit the dedicated SharePoint site (login required).