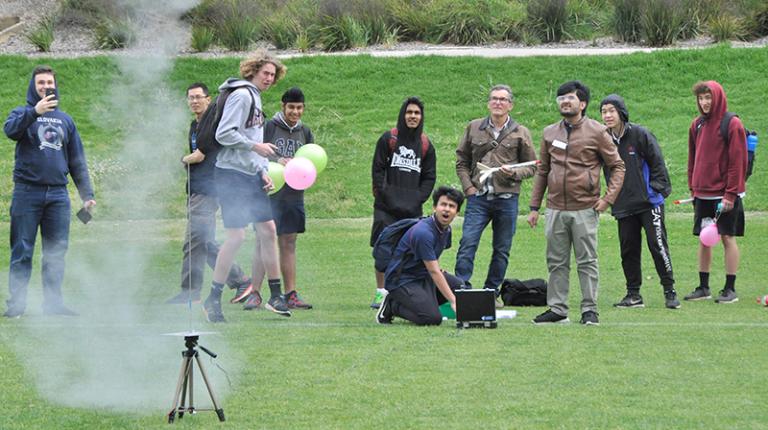 The VU Space School - a space-themed extracurricular program for VU students aimed at encouraging the next generation of space explorers, scientists and engineers - is looking for new members. 
Inspired by the NASA 2020 mission, the program brings VU student volunteers together with high-school students for free half- or full-day workshops that demonstrate the wonders of STEM (science, technology, engineering and mathematics) in projects that are out of this world.
The VU students mentor the younger students as teams design, build and test miniature rockets outdoors for the 'Rocket Challenge'. They can also build a 'Martian lander', complete with an egg that takes on the role of a wobbly astronaut and a balloon that acts as a parachute.
The Martian Rover workshop sees student teams coding and programming computers to power a vehicle designed to test the terrain of another planet.
VU Space School members can choose to be involved in either developing new space-themed workshops, or managing the School's operations and marketing.
VU students who participate are often studying STEM-related degrees, and can use their Space School experience to put classroom theories into real-life use. The activities help students to build confidence and make valuable connections into the VU community and beyond, says Dr Thinh Nguyen, director of the VU Academy, which includes the Space School.
"At VU, we believe in providing educational experiences that prepare students for life by offering projects and programs that will help in their future careers as well as their day-to-day lives."
Members must commit at least two hours per week to the program, but they will gain enormously personally and professionally, say current participants.   
Space School project manager Chau Tran, a third-year IT student, says she gained enormous self-confidence from being involved.
"Last year we ran very successful workshops with dozens of students from Footscray City College and Mount Alexander College.
"We also offered the program to some of our fellow VU students, who loved it."